There's a wow factor to Peppers Spicers Peak Lodge that is undeniable, and Tiana Templeman found her recent visit unforgettable. but not for all the right reasons.
Expectations are high as my husband and I drive up 12km of winding unsealed road to Peppers Spicers Peak Lodge, the exclusive, ten-suite über-lodge perched above southeast Queensland's Main Range National Park and Scenic Rim. Curious wallabies stop eating just long enough to watch us pass. As we round the final corner, the lodge appears like a mirage. It's an architecturally stunning two-storey aerie with clouds reflected in sparkling windows and we cannot wait to step inside.
At around a grand a night, a stay at Spicers Peak doesn't come cheap but I'm celebrating a "significant birthday" and my husband has confidently splurged on this surprise visit because it comes so highly recommended. "Stay at Spicers Peak," our friends insist. "You'll remember the place long after you leave!" And it turns out they're right. Although unfortunately for the wrong reasons.
The first problem is entirely our own. We've neglected to print out the driving directions available on the website and my "mystery destination" almost remains exactly that. There's no signage and the turnoff is easy to miss, but after a quick phone call for directions we're soon pulling up outside.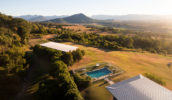 Tangled bedding is piled high on rumpled beds and dirty glasses litter the bedside table. It's not a good look, especially for a five star hotel.
At first glance the place appears deserted but someone eventually appears and invites us inside. There's an undeniable "wow factor" upon entering the Lodge for the first time. A massive Scottish bluestone fireplace takes centre stage in a communal guest lounge and the modern, minimalist decor is complemented by leather chairs and soft furnishings in toasty colours. Re-milled Blackbutt timber features throughout and adds a suitably rustic feel.
Once inside we're given a rushed introduction by a distracted staff member and invited to look around. She seems almost surprised to see us, which is strange since we just called for directions. We wander upstairs and spy a balcony perfect for watching the sunset, but the guestrooms left in disarray are less picturesque. Tangled bedding is piled high on rumpled beds and dirty glasses litter the bedside table. It's not a good look, especially for a five star hotel.
We've arrived early, so our suite isn't available yet – which is fine, as we're spoiled for choice with free activities such as mountain biking, swimming, tennis and bushwalking. We opt for the latter and, on our return, our suite awaits. Complete with a bucket and mop, which stands guard outside for most of the day.
We walk around the bucket of dirty water and into our Lodge Suite, which comes with a stone fireplace, king-size bed and a window seat perfect for enjoying bucolic views of rolling lawns dotted with cows. More expensive again are the Spa Suites, which come with, not surprisingly, a spa and a guaranteed fireplace (two of the ten suites do not). The pick of these is apparently No.7, which has a skylight over the spa bath for late-night stargazing.
Dining at Spicers Peak is the highlight of our stay and meals and drinks are included in the tariff. Food is fresh and simple and showcases the quality of the ingredients; the wine list is excellent and offers interesting choices alongside well-known and respected brands. Food and wine matching is something the lodge prides itself on and the restaurant has taken out numerous awards. Our friends mentioned a dining experience involving knowledgeable waiters and a chef who stopped by to chat about the food but this doesn't happen during our visit. A little disappointing but no matter as the food is good enough to speak for itself.
It's soon apparent that there is essentially one person looking after half a dozen guests, in addition to mopping floors, mixing drinks and waitressing, and she often disappears for extended periods (probably for a well-deserved lie down, poor thing). Fortunately the main bar is largely a help yourself affair, yet when my husband reaches for another bottle of designer water he's reprimanded with a curt "I'll get that for you," and isn't game to venture behind the bar again for fear of being sent to a (suitably luxurious) naughty chair.
Overall the property is one of the most impressive I've stayed at in Australia – the ground are beautiful, the buildings are architecturally amazing, and the food is divine. Our friends were right: we will always remember our stay. Just not for the reasons we expected from a property of this calibre and at this price point.
Details // Wilkinson Road, Maryvale, 90mins southwest of Brisbane.  From $1090 per couple, per night all-inclusive.  www.peppers.com.au/spicers, 1300 773 452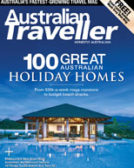 Enjoy this article?
You can find it in Issue 29 along with
loads of other great stories and tips.