Ten things you probably didn't know about Fraser Island, QLD.
Ten Things You Probably Didn't Know About . . .
Fraser Island By David Whitley
ONE
At 120km long and 30km wide, it's the world's largest sand island.

TWO
All the sand is originally from south of the border – it was swept up from NSW by prevailing winds during the last Ice Age.

THREE
Fraser's famous dingoes are such a pure breed that domestic dogs are not allowed on the island.

FOUR
Lake Boomanjin, one of the island's prettier sights, is officially the largest perched lake (ie, one that is above the water table) in the world.

FIVE
In 1836, the Stirling Castle crashed onto the island. The survivors were stranded there for six weeks, during which time many were taken hostage by the local Aboriginals. One of these was Eliza Fraser, the wife of the captain. The island was later named after her.

SIX
During WWII, Fraser Island was used as a secret training base for a crack commando unit. Deemed perfect for both jungle and amphibious training, the site saw more than 900 Allied soldiers put through a gruelling regime.

SEVEN
If you think your commute to work is a drag, spare a thought for the flying foxes. They have to fly to the island every night from the mainland, as there are no caves on Fraser for them to sleep in during the day.

EIGHT
The only place in Australia that has a higher concentration of lakes is Tasmania.

NINE
The Indigenous Butchulla people's original name for the island is K'gari, meaning: paradise.

TEN
75 Mile Beach doubles as both the main highway and the airport.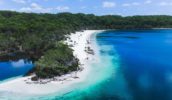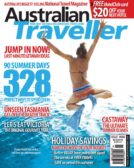 Enjoy this article?
You can find it in Issue 6 along with
loads of other great stories and tips.