Surf and beach culture is part of the Australian life, but you don't need to tell that to the 47 surfers who rode the world's largest surrfboard, or to Nev Hyman, the man who created it.
Australia is synonymous with surf and beach culture. In 2007 we could finally be proud of our surfing prowess once again when Mick Fanning won his first world title. But three years ago, it was right here in our very own surfing Mecca, otherwise known as the Goldie, that shaper Nev Hyman broke two world records simultaneously: the world's largest surfboard and the most people ever to successfully ride a board to shore.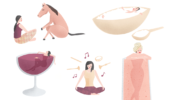 The board in question doesn't really resemble a surfboard so much as a small yacht. It's 40ft long, nine feet wide and was ridden by 47 surfers at Snapper Rocks in March 2005.
This proud Aussie product is now on a major fundraising tour of the US to mount another wave-riding world record attempt in Huntington Beach. After which owner Nev Hyman is hoping to give the surfboard one more seriously big ride by towing it into a "real" wave with a handful of guys properly surfing it. Then the board will be homeward bound and – if Hyman has his way – will become a gigantic advertisement for a new surf museum at Burleigh Heads, expected to open in mid-2008.
Where // From mid-2008 you can see the surfing behemoth at a new surf museum in Burleigh Heads.
Did you know? // The previous world record for the most people riding a single surfboard looks rather pathetic in comparison and was set in rainy Cornwall, England, when a total of 14 surfers rode a narrow paddle board to shore. Wow. But, then again, not everyone's got 300 litres of resin and about $50,000 at their disposal.
SEE THE FULL LIST: 100 Things you can only do in Australia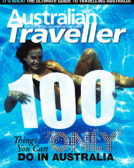 Enjoy this article?
You can find it in Issue 20 along with
loads of other great stories and tips.