Seclusion, privacy and an exquisite natural backdrop make Crystal Creek Rainforest Retreat an ideal option for a weekend escape, a romantic getaway or a honeymoon.
Nestled at the base of the World Heritage Listed Springbrook National Park, on the NSW/Queensland border, are just 10 private cabins, bungalows and lodges hidden amongst the trees, capturing the tranquility of the surrounding rainforest.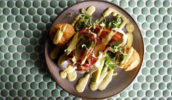 While the surrounds may be unspoilt, guests are definitely not. Each bungalow contains a king-sized bed, fully equipped kitchen, flat screen TV/DVD, stereo and a sumptuous double spa bath or luxurious solid marble bath overlooking the rainforest.
Guests can self-cater, cook a barbecue on their balcony or enjoy fine cuisine provided by their hosts, eaten at leisure by candlelight in the privacy of their bungalow.
Take a picnic pack and meander along one of the many secluded tracks on Crystal Creek's pristine 250-acre rainforest, swim in crystal rock pools – or do nothing at all – in hammocks suspended over the water.
The details: Crystal Creek Rainforest Retreat, Murwillumbah
Phone: 02 6679 1591
Web: www.ccrr.com.au
Email: relax@ccrr.com.au