The Gold Coast is many things to many people – holiday playground, theme park nirvana, surfing utopia or crass, contrived and overdeveloped urban nightmare, depending on who you talk to. Long-term resident Tim Baker details the numerous and varied attractions of his adopted home. . .
"They indulged in the fantasy without thinking how silly it was. That's what I liked about the Gold Coast, the blossoming of all these different fantasies, how they all merged together, got mixed up and became strange new hybrids."
Matthew Condon in A Night at the Pink Poodle.
There's a little known Gold Coast tourism poster from the '80s that was never allowed to see the light of day, pulped almost the moment it came off the presses. It features a steamy bedroom scene; one man and two women sprawled on a double bed, their glistening nakedness barely covered by a crumpled sheet. They gaze out of a Surfers Paradise high-rise apartment on to the azure blue Pacific Ocean under the ever-shining Queensland sun. One can only imagine what kind of breathless gymnastics have left them so spent and sweaty. Or am I jumping to conclusions? Perhaps they've just popped in for an afternoon nap after a game of beach volleyball.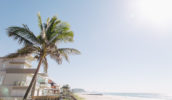 But in the squeamish early stages of the AIDS epidemic in the mid-'80s, this was deemed too provocative, encouraging of promiscuity and, by implication, unsafe sex. Yet it's this hint of the salacious, the naughty wink to the saucy possibilities represented by all those beachfront boudoirs, that has been at the core of the Gold Coast's appeal for decades.
ROMANCE WITH A BEACH VIEW
I've been trying to figure out the enduring power of the Gold Coast, that continues to draw millions of visitors a year, even as the academics and cultural elites from the south sneer and deride their crass northern neighbour, the mad uncle in the attic. And I've concluded thus: The beach, sea air, sunshine and subtropical climate is thought to make us horny and troppo (or at least sub-troppo), move us to toss away strict, laced-up notions of propriety, and dare to act out long-stifled, forbidden fantasies – as if we were never designed to migrate this close to the Tropic of Capricorn, or inhabit the giddy altitudes of those beachfront high-rises.
Many of us experienced our first gritty, romantic clinches on beaches around the country in Summer holidays – though if they were ever consummated it was generally in cramped cars or as clumsy grapples in the sand.
Yet here is a place where it's possible for literally thousands of beachgoers to be comfortably entwined, with a view of the ocean, simultaneously, day and night. Here, just a short stroll from the water's edge, are modern comfort and convenience, clean sheets and bathrooms and towels to retire to, before the first flames of that beach-inspired desire have time to cool. Deep down, perhaps all of us come to the Gold Coast harbouring a secret desire to be bonking with a beach view.
This isn't a recent phenomenon. In the early 1900s, when the first tent cities sprang up on the sand dunes of Coolangatta in holiday season, outraged residents protested the threat to public morals posed by single women camping alone. And the advent of mixed bathing inspired this risqué report in the Brisbane Truth in 1910:
"A TRIP TO THE TWEED, COCKY IN CLOVER. BREASTING THE BREAKERS. MAIDS, MATRONS AND MIXED BATHING . . .
"Joy possesses the city man at the sign of the glorious beaches on Queensland territory. The sand is white, the breakers tall and foamy. Maids and matrons go forth into the breakers in the midst of scores of unknown men, but, except for the fact that many of the women wear tight-fitting and very abbreviated swimming jerseys, the demands of propriety are not much infringed upon. Occasionally a mild sensation is created by the appearance of a lady bather in SHELL PINK BATHING GARMENTS of diaphanous texture, or by that of a corpulent city man bare above the waist and bereft of shame . . . Some of Brisbane's most select society girls have a habit of parading the beach attired in swimming costume, and accompanied by good young men who can participate in such peculiar pleasure without suffering any damage to their character and morals. The young ladies, presumably, are living as close to Nature as laws of the land will allow."
When the first of the Coolangatta guesthouses went up around 1912, there was an eager traffic of young men and women from Brisbane and Ipswich keen to sample the new craze of surf bathing and the convivial atmosphere for romance it seemed to generate. Train travel from Brisbane to the Coast tripled inside a decade. Guesthouses provided food and board for a modest tariff, with the women upstairs and the men downstairs, and a nightwatchman to guard the staircase – the honour of the women lodgers considered the earnest responsibility of the management. This didn't deter the more adventurous male suitors from shimmying up drainpipes in their quests for romantic entanglement.
An array of beach games were designed and staged on Greenmount Beach to allow the young holiday makers to become better acquainted in the relative safety of daylight – pillow fights on logs, fancy dress pageants, Hawaiian-themed pantomimes and, later, the famous Hokey Pokey. Is this really so different from the modern phenomenon of Schoolies Week and its promise of wild times and beach holiday romance?
Is it, then, pheromones and not marketing promotions that have fuelled the Gold Coast's phenomenal growth? Could the tourism authorities have saved themselves a whole lot of time and money, tossed some baby oil and prophylactics into the sweaty throng and simply let nature take its course? But then that would have denied us the unfolding, indefatigable theatre for the nation that is Gold Coast tourism promotion.
VERY GC
I've recently had cause to view almost all the Gold Coast tourism videos and much of the delightful kitsch memorabilia produced over the past 50 years. I can summarise my pervading impressions simply: A palm tree. A girl in a bikini. A beach. A shining sun. A high-rise apartment building. Together they form a kind of Gold Coast coat of arms, or mandala, a symbol of all the delights the Coast promises. Give or take a few lorikeets, water skiers in formation and cavorting dolphins, the addition of a rollercoaster or racing car or roulette wheel, these simple elements recur over and over again on all manner of Gold Coast souvenirs, accurately depicting the pull of Australia's "favourite holiday playground." In all that time, while the marketing imagery may have become slicker, the buildings taller, the bikinis briefer (then fuller again), the essential message has remained the same. Here is a place you can find miles of golden beaches, sunshine, girls in bikinis, "action" of one kind or another to suit your tastes, and modern conveniences. You can swim, surf, sunbake, shop, eat, party and, with any luck at all, get laid a stone's throw from the beach. It's a simple formula that successive generations of Gold Coast entrepreneurs have elevated to an art form. It's a place that has unashamedly sold itself to the rest of the country, and the world, since its very inception.
"Most Australians, regardless of where they live, understand what is meant by the concept of the Gold Coast lifestyle," points out social demographer Bernard Salt. "And yet neither this concept nor the city itself existed at the mid point of the 20th century."
A classic postcard produced by Murray Views Publishing in 1958 depicts the allure in a more sophisticated light. Half the postcard is devoted to the typical Surfers beach scene – high-rise, girls, palm tree, sun, beach umbrellas – while the other half shows an elegant couple in evening wear out on the town. The message is clear: we not only have a beach, we have places to go at night. Fancy places. "International" places, is the common adjective in the tourism promos.
It's curious, then, that the much-vaunted VeryGC campaign, recently unveiled to much fanfare by Gold Coast Tourism to "re-brand" the Gold Coast, should be based upon these very same elements, albeit in a hip, modern, cartoony form. Or maybe it isn't curious at all. VeryGC is a deceptively clever campaign, stemming from that same school of advertising theory as "Bloody Volvo Drivers." Very GC, or more commonly "So GC", was formerly a term of derision, for something unbelievably tacky or garish or ostentatious. Cosmetic surgeons, tanning salons, old blokes in hairpieces and gold chains driving sports cars with much younger girlfriends, mature bottle-blonde dames in hoop earrings and linen resort wear – all Very GC. The ad campaign claims the tag and spins it around, so that it echoes with something deep in our subconscious but turns it to its own purposes.
But these days, the tourism marketeers and ad-men aren't the only ones singing the Gold Coast's praises. Serious academics now study the Gold Coast as a social, architectural and economic phenomenon. Art galleries stage exhibitions of kitsch tourist trinkets. Learned urban planners now spring to the Gold Coast's defence, as a perfect manifestation of its inhabitants' desires.
"While seen by many outside the city as superficial, its themed environments and fantastic urban expression is the heritage of the Gold Coast," write Richard Allom and Tory Jones, in their urban planning paper, "A nice place to visit – celebrating the superficial and planning for permanence at the Gold Coast." Those who dismiss the Coast as an ill-planned concrete jungle might be surprised by their findings. "These include recognition that the Gold Coast is not only different from other Australian cities in its urban expression and that its holiday culture is perfectly reflected in that form, but that its residents (as well as its visitors) choose that lifestyle and embrace that difference . . . The rejection of the Gold Coast by serious planners and purveyors of taste is cultural snobbery and urban chauvinism."
Urban heritage writer Colin Symes puts it neatly: "It is a city where the spurious has been turned into an art form, and urban design subjected to the principles of the theme park. This should be celebrated as the quintessence of the Gold Coast."
Is it perhaps time, then, that we looked at the Gold Coast anew? Is it just possible that it might pose a pleasant holiday option for more than families on the theme park circuit and schoolies bent on post-exam oblivion?
MYTH-CONCEPTION
There are two pervasive Gold Coast mythologies. One is the sustained tourism campaigning, the hard sell, extolling the virtues of an attraction-packed holiday paradise for families and singles, schoolies and retirees alike. It's our Miami, or Vegas by the beach. Our Rio de Janeiro or Riviera. The kind of pleasure-filled pressure valve every modern nation needs.
The other is the seamy, seedy underbelly, portrayed convincingly in Chris Nyst's film Gettin' Square, the AFI-award-winning rendering of the Coast's colourful criminal world. "A sunny place for shady people", is the common refrain. Piggybacking this portrayal is the inference that all this ill-planned development has contributed to the moral decay of its inhabitants.
The marketeers go on insisting it's the former mythology, while its detractors insist it's the latter. Nowhere else in Australia has so self-consciously and persistently promoted itself, demanded to be seen a certain way, told the rest of the country so ardently, we are this, we are this, we are this, even as the southern critics have bleated: no, no, no, you are that.
And no place name in Australia is as emotionally loaded, carries with it such colourful stereotypes and inspires such extreme views as the Gold Coast. Don't believe me? Try this simple test: put the name of any of our major cities in front of the label "businessman" or "beauty student" or "property developer," then try it with "Gold Coast" in front of them. "Sydney businessman" or "Melbourne property developer" seem fairly neutral tags – but to many, their Gold Coast counterparts immediately arouse suspicion. Underlying these prejudices is the perception that the Gold Coast is somewhere to escape to, when you've sullied your reputation, screwed up your career or marriage or business elsewhere in the country. It's somewhere to reinvent yourself, to claim to be whatever you like, regardless of qualifications – movie producer, model, ironman, actor, personal trainer, entrepreneur – and the Gold Coast will have you. "It's a place of escape, a refuge from more conventional cities and environments," writes Colin Symes. "Demarcations between work and play have been abandoned."
The truth, as usual, lies somewhere between these two myths. The Gold Coast of today is a city of staggering contradictions and mind-boggling diversity. It's home to both the world's tallest residential apartment building, Q1, and Australia's most ambitious, master-planned eco-village in Currumbin Valley. It's home to more surf clubs, bars, strip joints and nightclubs per capita than anywhere in Australia. Yet it's also a centre for the renaissance in the healing arts, once you've comprehensively wiped yourself out, courtesy of four world-class health retreats nestled in its hinterland forests. It's our sixth largest and fastest growing city. Yet a recent study found the Gold Coast was more bio-diverse than Kakadu – part of the so-called "Macleay/Macpherson overlap", where tropical and temperate species coexist at their respective southern and northernmost limits. More than 50 percent of the city is preserved as green open space, while cranes line the foreshore. To many, the Gold Coast seems the perfect home for the suspended-reality TV show Big Brother and the alternative universes of Dreamworld, Movieworld, Seaworld and Wet and Wild. Yet a small hop inland transports you to the natural wonders of the hinterland, with its 50,000 hectares of World Heritage rainforest, waterfalls, rare flora and fauna, 4000-year-old Antarctic beech trees, cosy cottages, wineries and country charm. You can stumble out of a Surfers Paradise nightclub at dawn, past board-riders sprinting to catch the day's first waves and the most enthusiastic beach walkers in the country.
NORTHERN MIGRATION
I've maintained a puzzling love/hate relationship with the Gold Coast for 15 years, since I moved here to take up a job editing a surfing magazine. I was part of the great northern migration from Melbourne, via five years living and working in Sydney. My older brother predicted my next logical move was to run a bar in Manila. "You're progressively seeking out less cerebral, more hedonistic environments," he warned.
Yet, I'd better not get too cheeky. The tourism industry has had enough of southerners taking the piss. The first issue of Australian Traveller hadn't even hit the newsstands before it found itself being sternly editorialised against by the Gold Coast Bulletin, aghast because AT had labelled Surfers Paradise one of Australia's ten ugliest towns.
"Have the critics ever stood on Surfers beach at night and looked along the columns of holiday apartments, lit up by what seem to be thousands of fairy lights?" trumpeted the indignant Bully.
"From a chamber of commerce perspective we've had enough of half-baked journos trying to make a name for themselves at the expense of the Gold Coast," barked Commerce Queensland's Gold Coast president John Witheriff. Well, perhaps after 15 years here I might be considered fully baked and dare to venture an opinion.
It's easy to understand why Gold Coasters are touchy to southern jibes; it has been a national sport for decades. In 1957 in the Melbourne Age, architect Robin Boyd described Surfers Paradise thus:
"Here is a fibro-cement paradise under a rainbow of plastic paint. It is any Australian country town plus optimism. It is a utopia of souvenir shops, bamboo bridges spanning murky rock pools, night clubs, 'fabulous floor shows', 'bikini bars' selling floral wisps of bathers and Hawaiian shirts through windows open to the footpath, ill-lit cabarets, over-lighted cafes, indoor planting, outdoor denuding, beer gardens in no apparent hurry to close at ten, shops open so long as there are customers awake, Sunday movies, signs, hoardings, posters, neons, primary colours – purple green and orange straight from the brimming pot."
The misconception was the same then as today – that the Gold Coast is Surfers Paradise, when clearly it's much more. It's like defining Sydney by King's Cross, or perhaps Kurnell.
"As you approach the Gold Coast, in other cities you see the chimneys of industry, as you approach the Gold Coast you see the high-rise towers poking up and they are in fact the industry of the Gold Coast," says architect Richard Allom, urban heritage advisor to the Gold Coast City Council. Seen then as alternatives to smoke-belching factories, perhaps the high-rise towers become more palatable.
But look beyond the towers and, it must be said, the Gold Coast is a remarkably beautiful part of the world. Nature doesn't recognise state borders – northern NSW is right next door, and is generally considered a pretty attractive place. The Gold Coast is similar territory, and its hinterland arguably even more spectacular – all born of the ancient volcano Wollumbin, or Mount Warning, which erupted 22 millions years ago. The great mountain, once twice its current 1000 metres in height, slowly sank and eroded under the force of heavy subtropical rains, creating the world's largest volcanic caldera, and a wonderland of rainforest pockets, meandering waterways and a home for unique flora and fauna. The Gold Coast and Northern NSW hinterlands are part of the same sunken volcanic rim, and much of it is still fairly pristine on both sides of the border.
But even the Aboriginal people of this area noted a distinction. Northern NSW is Bundjulung country, while north of the Tweed River is Yugambeh land. The Kombumerri people – one family group or clan within the Yugambeh "nation", were renowned as great hosts, welcoming neighbouring family groups into the area when native foods were in season – as if the spirit of hospitality was somehow inherent in the land. It was always a place of great natural abundance, with plentiful fish and other seafood and rainforest tucker, easily gathered in a couple of hours a day. This left plenty of time for enjoying the idyllic climate, the development of a sophisticated culture – art, music, stories – while relaxing under pandanus trees by the beach. The holiday lifestyle we enjoy today is inherited from what must have been an idyllic, pre-European existence.
Ysola Best is a Yugambeh woman and historian who grew up in Southport in the '40s, and remembers a childhood spent largely on the beach or exploring the region's myriad waterways as they snaked and coiled inland. "I loved the river. I swam, fished, rowed boats, explored, searched for mudcrabs," she writes, in her history of the Kombumerri people. "But the most exciting time would be when my mother organised the boat excursion, on important family days. We would row across the river to a place called Jarri Parila (also known as Narrowneck) where we crossed over a track and ended up on the beach. 'Jarri Parila' is how we spelt that word; it is Aboriginal and means 'the dancing ground.' It is a very important place and there are many stories told about it.'"
Such Aboriginal cultural sites abound on the Gold Coast – bora rings, middens, camping grounds – yet you'd be hard pressed to find any sign of their significance today. We've barely maintained any of our European heritage here, let alone pre-European, and grand old pubs and theatres, beach houses and holiday flats have gone the same way as the Aboriginal sites. On the relentless march of progress, nothing is allowed to endure long enough to become truly classic or historic, to age gracefully and inform our experience of the present with a whiff of the past. The entire Gold Coast, a city of close to 450,000 people, has only ten heritage-listed buildings. Some sites have been redeveloped four or five times in just over 50 years – from camping grounds to fibro shacks to holiday flats to high-rise towers, leaving little trace of what came before. Occasionally you can catch a glimpse of the old Gold Coast in a surviving vintage motel clinging to its site on the highway, or the classic beach houses sitting cheek by jowl with tasteless McMansions along Hedges Avenue, or the old holiday flats you can still find in the back streets of Coolangatta, in the shade of the high-rise towers. If just a little more of this living history was cherished and preserved, the Gold Coast would be celebrated as a place of real charm, depth and soul. "Soulless" is perhaps the most common criticism levelled at the GC, with good reason, as if it has somehow just fallen out of the sky and landed here. It's more than a little ironic that the next great super-tower to take its place on the Surfers Paradise foreshore has been slickly marketed and almost entirely sold off the plan, under the banner, "Soul."
GETTING THE GC
Certainly, a great time can still be had on the Gold Coast by people from all walks of life – surfers, families, nightclubbers, nature lovers. As the city continues to change and evolve, its constant state of flux becomes almost an attraction in itself. As the new generation of super-towers go up, adding thousands to the permanent population in the heart of Surfers, it will surely become something else again, for better or worse.
Yet I still mourn the passing of the Old Coast I never knew, and the tragedy of its desperate determination to remain perpetually relevant and in the "now", thus denying it a connection to its past. It seems every time I drive the Gold Coast Highway I notice another old beach house, motel or block of holiday flats that has bitten the dust, to make room for yet more apartments.
It's getting harder to get a wave to yourself here, too, which has moved some of the city's more dedicated surfers to take up surfing at night, on a full moon, just to score a few uncrowded waves. And it was on one such mission to escape the relentless crowds that I felt like I finally "got" the Gold Coast. Racing along the zippering silvery waves in the moonlight, a blurred kaleidoscope of streetlights and illuminated apartment towers and reflected moonbeams flashing by my peripheral vision, the whole outlandish city twinkling like fairy lights, as the Bulletin's editorial writer observed, I felt a strange new acceptance of the haphazard madness of it all, of this holiday town that ate an entire stretch of coast.
And when I eventually surfed in to the beach at Greenmount, shivering, exhausted and exhilarated, there was nothing. No people, no noise, no cars, nothing – except for one amorous couple grappling in the sand, preparing a serve of crumbed sausage, no doubt. And for perhaps the first time in 15 years, without the dizzying overlay of human chaos, I truly felt the land – these weathered foothills of an ancient volcano, where lava once cascaded into the sea. The prehistoric-looking pandanus lining the point as they have for millennia, the strewn boulders that lay where that great seismic upheaval had tossed them millions of years before, the cosy, protected little nook inside the headland where literally hundreds of generations of beachgoers have no doubt gathered, shared food, laughed, swum and frolicked in the breakers, succumbing to the irresistible spirit of place. And I was reminded of a story about the original old beach boys of Waikiki, upon which Surfers Paradise was surely modelled. Having seen their idyllic surfing playground transformed into a modern holiday metropolis, one of the local beach boys was asked how he coped with the change.
"Turn your back on it," he said. "Look out to sea. The view is exactly the same as it's always been."
DETAILS: THE GOLD COAST
BEST MONTHS TO GO: October to May
MOST UNDER-RATED ASPECT: Hinterland natural beauty.
MOST OVER-RATED ASPECT: Surfers Paradise nightlife.
BE PREPARED FOR: Afternoon shadows of high-rise on the beach at Surfers Paradise.
WATCH OUT FOR: Great value surf club eateries with the best views around.
BEST VALUE ENCOUNTERED: $5 roast nights at various surf clubs. God bless all those pokey players subsidising the meals.
CONTACT: www.verygc.com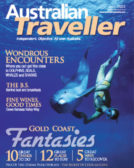 Enjoy this article?
You can find it in Issue 3 along with
loads of other great stories and tips.