At ten years old, Palazzo Versace is no spring chicken, but the glitzy hotel recently won Best Luxury Hotel at the 2011 Australian Traveller Reader Awards. Chris Smith sees what all the fuss is about.

A little over a decade ago, when the Gold Coast's latest themed five star hotel, Palazzo Versace, rose from the docks of The Broadwater, the critics called it "gaudy", "naff" and even "repulsive". Sometimes the worse the write-up, the better it is for bookings. That's what drew me to staying at Palazzo Versace soon after it opened in 2001.
What was this brazen brand, which dared to push the boundaries of taste and style, and was even shameless enough to find a home directly opposite the hotel leader in the space at the time, the Sheraton Mirage? Gutsy work for one of the first of its kind in the world, which came to Australia with the aim of capitalising on that renowned Gold Coast bling lifestyle, and combining it with their own kind of ultra-luxurious hospitality.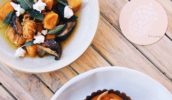 And it did shock. With its gold-embossed logos, shimmering ceiling designs, loud chandeliers and lavish baths that dominated each and every room, the hotel owned by Donatella and Santo Versace made a boisterous statement. This was a Gianni's House of Versace – just outside of Italy and in the shape of a hotel!
The most ostentatious part of all that opulence was when a gang of elderly Italian stonemasons was flown to Australia from their home country to complete the huge mosaic creation that would greet guests at the driveway. It's superb craftsmanship.
Over time, the world's highest profile celebrities were attracted to stay at the Palazzo Versace – from Paris Hilton and Kate Hudson to the Rolling Stones and U2. My stay in 2001 was a memorable one in all ways. But I did wonder whether such a unique and specific style of accommodation would last the style test years later. So back I went recently, to do a "Ten Up" on the Palazzo Versace.
I did detect the odd broken tile around the pool area, and some wear on the balconies due to the exposure of being located on such a narrow, weather-beaten peninsula, but without a magnifying glass you couldn't pick it. It was strange not to have access to in-house movies too, and the DVDs on offer were in need of a chuck-out. But once you flicked through all options on Fox, there were movies to enjoy.
I discovered some added extras too: like the revamped Vie Bar, the massive sub-ground spa complex and a series of poolside cabana-style day beds, which turned VIPs into Very VIPS for a moderate price. The sandy-edged main swimming pool, with its outdoor cocktail bar and plantation of palm trees is like no other.
It has withstood the test of time in terms of both style and service. It is a classy establishment. There's nothing like Palazzo Versace in Australia, and yet they're not resting on any celebrity laurel. And a footnote on celebrities; during my stay there, filming took place for the British reality TV show I'm a Celebrity, Get Me Out Of Here. Didn't those Poms enjoy their stay?!
Even after more than a decade, this sexy Italian lady is still turning heads.
HAVE YOUR SAY
Have you stayed at a hotel or resort recently that you feel has stood the test of time? Or would you like to have your say about an over-rated luxury stay that could use an extreme makeover? Email csmith@australiantraveller.com with your comments and tune in to his weekday afternoon show on 2GB 873 in Sydney, 2CC 1206 in Canberra and MTR 1377 in Melbourne.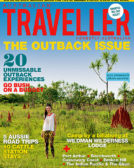 Enjoy this article?
You can find it in Issue 43 along with
loads of other great stories and tips.