The Australian Outback Spectacular is billed as the quintessential Australian experience. But is the Gold Coast's horseback extravaganza just for overseas tourists, or will it bring a tear to the eye of a true-blue, dinky-di, sauce-on-his-pie Aussie like Mike Larder?  THE HISTORY LESSON
At 4.30 on an October afternoon in 1917, in the sweltering wastes of the Palestinian desert, Lieutenant General Sir Harry Chauvel faced a grim decision. On his order, 800 sons of Australian mothers would attempt an 11th-hour, suicidal charge upon a heavily armed, 4400-strong Turko-German army that was defending a fly spot on the edge of the Ottoman Empire, Beersheba, and its precious water supply.
This awesome responsibility fell to a bunch of country kids from Oz.
With a nod from Chauvel, the battle-hardened 4th Light Horse Brigade surged forward, fanning out into three columns, each a mile wide, and pelted, emu feathers streaming, hell for leather for the entrenched enemy – "yelling, swearing and screaming their heads off" – brandishing nothing but 18-inch bayonets not much larger than your average bread knife.
Surviving the initial fusillade, Australian troopers fell upon the astonished Turks in bloody battle. The odds were worse than five to one against. Stunned by the audacity of the charge, the Turks capitulated. Fewer than 40 Australians were killed during the melee.
Relieving the suffering of their equine mates was always a priority; soldiers immediately shot their wounded horses.
The survivors finally got the drink they deserved.
The Australian Light Horse, both man and beast, had charged into folklore. These young blokes and their leaders were not soldiers of a conventional army but a ragtag militia of young, irreverent sons of the soil, born to the saddle. They were drawn from the outback and rural regions of Australia by the enticement of thrills, adventure and naive patriotism.BACKSTAGE PASS
Ninety-three years later and far away from the arid deserts of the Holy Land, I'm perched on a haycart in a large barn on Queensland's more peaceful Gold Coast watching a young man dancing with his horse in the Australian Outback Spectacular, a show presented by legendary Aussie brand R.M. Williams.
The chestnut horse prances and struts, ears erect and mane flying, swirling first to the right, then to the left, reacting to every nuance  of control from its rider. A hefty 24-year-old bloke, Alex Biffin from a dairy farm in Camden, NSW, is engrossed in a private man-horse moment before showtime. He's clad in the drab green uniform of the fabled Australian Light Horse, as are a platoon of his mates forming up behind. Leather squeaks and reins jangle. The horses are frisky. Muffled thuds, whooshes and bangs, the amplified sounds of battle, filter through to backstage – a large enclosed corral.
The curtain sweeps back and, accompanied by a thundering crescendo, the faux Light Horseman, emu feathers fluttering from battered slouch hats, charge. The audience whistle and stamp 2000 feet in appreciation.
I feel like I'm caught in a time warp.THE CURTAIN RISES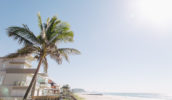 The barn doors swing open to the public at 6pm. A thousand guests run the gauntlet of the merchandise shop and make for the enormous themed bar-cum-gallery. They shake paws with a few tongue-lolling cattle dogs strategically placed on barrels, have their pictures taken and meet the equine stars fenced off along one wall. Small sticky-fingered kids pet the horses as Brad strums bootscootin' toons from atop a wagon. Some of the more energetic punters join in.

"Now youse lot," bellows "Bluey" the warmer-upper, from somewhere under a comically large bush hat. "I want no bloody videos or flashguns. And turn ya bloody mobile phones off or I'll be up youse like a ferret up a drover's trouser leg!"

Once refreshed by adult cordials, the guests are gently herded, practising their "coooeees", to their stalls.

"The boys from the Bush are back in town…" come the vocals of country-music doyen Lee Kernigan from up in the roof. Kernigan co-wrote the musical score for the show.

A lone rider streaks out of the mist, slashing and cracking his whip, and rears his fabulous black stallion in triumphal salutation. From then on, the production rarely stops for a breather.

Meanwhile, out in the arena, the audience is fed and watered in the seven-and-a-half minutes it takes for bush bard Glenn "Bluey" Jones, the camp cook, to recite a stirring rendition of "The Man from Snowy River". One thousand plates of steak, mashed spuds, pumpkin and carrots are served by 120 attractive cowgirls wearing standard outback garb – tight jeans, a button-down shirt, slightly scuffed riding boots and a wide-brimmed hat. There's pavlova to follow.

The crowd makes more noise than a tree full of hungry galahs as we munch, cheer, drink and stamp (the preferred form of outback clapping) our way through a series of exuberant living-history cameos depicting scenes from pioneering hard yards right through to the present day. Cue lots of mustering, formation riding, camp draft, barrel racing, exploding barbecues, the inevitable campfire scene and, for the finale, the spectacular entrance of a heli-musterer.

The centrepiece, "The Heroes of the Light Horse", is a recent addition to the programme. Its superb sound and light extravaganza stirs a thousand emotions. The 40-minute re‑creation of the legendary charge is a noisy, patriotic and eye-moistening experience – sentimentality laid on with a trowel. By the end, large blokes are snuffling self consciously into their shirt sleeves ("Just a bit of a cold, darl").Contact Details

RM Williams Outback Spectacular

Pacific Motorway, Oxenford

Gold Coast,

Queensland 4210

Australia

Reservations:133 386

Administration Ph: +61 7 5573 3999

Fax No: +61 7 5573 3666NUMBERS……….
The Australian Outback Spectacular is a high-value production. It costs over $250,000 annually just to feed and pamper the horses, let alone their riders. Sixty eight cosseted hayburners rotate through the year and receive three months' annual R&R. Their co-stars, a couple of mobs of cattle, a flock of merinos, several dogs, two camels and a ration of pigs – all live in outlying fields and spacious stables.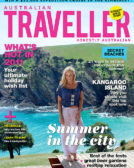 Enjoy this article?
You can find it in Issue 36 along with
loads of other great stories and tips.