Around 240km north of Cairns, Lizard Island is the largest in a cluster of six that form the Lizard Island National Park. The island is mostly covered in grasslands with the odd eucalypt woodlands, mangrove and paperbark swamps. Named after the frightfully large but harmless Gould sand monitors that cruise the beach, Lizard is rich in cultural significance for traditional owners, with sacred ceremonial sites and middens. The white fella has also left his mark, with the ruins of Watson's cottage still visible at Watsons Bay.
The big attraction, however, is the surrounding reef concealed by sparkling waters coloured an almost iridescent turquoise. Being so close to the outer reef, diving and snorkelling are world renowned, with the Ribbon Reefs and Cod Hole premier dive sites. Somewhat more tactile are the game fishermen who descend on Lizard looking to tag and release Black Marlin. The Giant Clam Garden just off the beach is home to ancient specimens, some an astonishing two metres in length.
Snorkelling the sheltered reef-strewn waters of the enticingly named Blue Lagoon is accessed by an easy 40min walk past the end of the airstrip. For a challenging walk that will have your heart almost jumping out of your chest, the 358m summit of Cooks Look will take around an hour to reach. It's well worth the effort, however, with panoramic views that allow one to easily locate the safe passages through the reef that Cook came up here to find.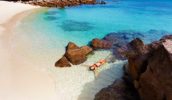 While campers pitch their tents in the coastal shrubbery near the base of Cooks Look, most visitors will stay either onboard vessels anchored in Watsons Bay, or at swanky Voyages Lizard Island Resort (www.lizardisland.com.au). The sand-floored Marlin Bar is the only resort facility accessible to campers and boaties, ensuring an exclusive enclave for a pampered few in 40 guest suites.
Suited to couples and friends seeking sophisticated elegance, complete with a welcome bottle of Bollinger on arrival for The Pavilion guests, children under 15 should be left at home.
Getting There: Light aircraft or liveaboard charter from Cairns.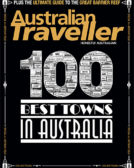 Enjoy this article?
You can find it in Issue 26 along with
loads of other great stories and tips.