A gentleman called Mr Lovecraft once came to Australia. He'd travelled all the way from Hollywood, in search of respite from his legions of screaming fans and a doggedly-persistent paparazzi. He found what he was looking for, when he got here: one of the world's most discreet destinations, Lizard Island.
If you've never heard of Mr Lovecraft, well – that's the point. A far cry from flashy cousins Hayman and Hamilton, Lizard is the definition of low-profile; a place of creamy beaches and white daybeds, where the well-heeled and world-famous come to retreat from the world. Despite its remote location, the island's international fan base is incredible: countless awards have been bestowed upon the resort, including, most recently, a win in the 2012 World's Best Awards, as decided by New York juggernaut Travel + Leisure magazine.
Incidentally, the number of high-fliers who've quietly holidayed here is staggering: Demi Moore, Tiger Woods, Prince Charles, Teri Hatcher, Greg Norman, Susan Sarandon, Tim Robbins, Russell Crowe, and Orlando Bloom, among others. Charlize Theron brought friends here. Al Gore holidayed with then-wife Tipper. The Rockefellers took over the entire island for a family wedding. And Mr Lovecraft was merely an alias – for Nicholas Cage. He came to spend quality time with his son.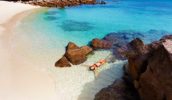 Predictably, Lizard Island is an indulgently beautiful place. White sand, azure waters, coconut palms: you'll find all the secluded island clichés here, right down to the famous lack of mobile reception – a deliberate move. "For many of those who come to Lizard, the definition of a holiday is not to be contactable easily," the resorts general manager Robyn Pontyen tells me. Besides, a mobile phone tower would go against the fundamentals of the area's unspoilt beauty: Lizard and its three neighbouring satellite islands are all under international guardianship, due to their status as a World Heritage Site. They're also part of a government-declared national park. Just two developments stand here; a tiny research centre (dedicated to monitoring the area's abundant marine life), and Lizard Island Resort.
And what a resort it is. If Nicole and Tom had come here towards the end of their union, rather than as optimistic newlyweds back in the 1990s, the gossip rags might be telling a different story today. For this is a place that could save marriages. Forty swish villas accommodate up to 80 guests on Lizard, but privacy is everywhere you look: there are no in-room TVs. No less than 24 empty beaches. Your own cliff-top infinity pool, if you stay in penthouse villa The Pavilion. And the island itself is remote enough to discourage the most determined gossip journalist from finding their way here: guests are required to make their way to Cairns, before taking an extra hour's flight out north, in a tiny lightplane that takes off from a privately-owned airport.
Naturally.
For all its exclusive pedigree however, this isn't a place of glitz and glam. Arrive here, and you'll be greeted by staff who, despite their carefully-pressed uniforms and incredibly attentive service, are mostly barefoot. Look around while you drink your thoughtfully-prepared mocktail, and you'll see that the look de rigueur involves beach hair and a sarong. (Diamonds optional.) The rooms, too, are elegantly understated: all high ceilings, timber floorboards, expensive finishings and heavy furniture, centered around one very plush, pillow-topped bed. (One suspects that guests are expected to enjoy a fair portion of their time here between the sheets.)
It all feels a little bit Bahamas, save for the classic Australian touches: a perfect tangle of raw bushland, sparkling blue water, and powdery white sand. And, of course, the island's permanent residents, after whom Captain Cook named the island when he landed here in 1770: lizards. These rather large creatures are almost guaranteed to give you a start upon first revealing themselves, although they're perfectly harmless and, one could almost say after a few days here, quite cute.
Almost.
Still, there's more on offer here than a pretty landscape. If you can drag yourself away from your villa – a fairly big ask, what with the daybeds, hammocks and complimentary mini-bar complete with home-made cookies – you'll find an activities list enchanting enough to please even the most spoilt of tastes.
Lizard is the only resort with doorstep access to the Great Barrier Reef, the world's largest (and arguably most beautiful) marine park, and you can literally step into the water, strap on your snorkel and go. Alternatively, putter around the corner in a dinghy to Watson's Bay, and you'll find a pretty cove showcasing a rather peculiar underwater attraction: groups of giant, 150-year-old clams. There are also two gleaming speed boats available for your game fishing, diving and snorkeling pleasure, and a vast array of other aquatic life to marvel at: turtles, sharks, rays and sea snakes; giant fish so tame you can pat them, and the reef's signature, joyfully-colourful coral.
And for those in need of a day off the water – or who simply cannot bear the thought of lifting a bejewelled hand whilst on holidays – there are picnic safaris available, on one of the many deserted beaches. Chat to head chef Anthony Healy (previously of Hayman Island) about your preferences, and he'll organise a deluxe champagne lunch to be ferried away with you via private dinghy. Massages are an optional extra.
Of course.
For all the gently swishing palm trees and laidback smiles of the staff, however, there's no denying it: this is one slick operation. Lizard Island resort has been running since 1975, when there were just five villas on the island and dinner each evening was a black tie affair.Several property upgrades, a handful of ownership changes and some soft refurbishments have gotten Lizard where she is today – in the capable hands of Delaware North, a worldwide conglomerate with fingers in all kinds of fabulous pies (including ownership of West Australian luxury lodge El Questro, Queensland island-for-rent Wilson Island, and King's Canyon Resort in the Red Centre).
Since their acquisition of Lizard in 2009, sparkling new bathrooms, linens and couches have been added to the resort, with an extra $15 million worth of upgrades due to take place next year. Not that she's in any real need of a facelift. It's hard to find fault with the pool, spa, tennis court, gym, guest lounge and dining area; although I can't admit to spending much time in any of them (save for the restaurant – every meal offers a different menu, so you can be forgiven for hanging about… or so I tell myself).
Still, the real beauty of Lizard is in her natural surrounds, which are as faultlessly luxurious as any man-made construction could aspire to. As actress Kate Hudson put it, after filming Hollywood rom-com Fool's Gold here: "If you're into romantic beach holidays with beautiful sand and clear crystal-blue water, this is it – the ultimate." Indeed.
The Details
Getting there
Qantas flies direct to Cairns from several major cities.
Flights depart from Hinterland Airport, Cairns to Lizard twice-daily. The resort will book these flights on your behalf.
Lizard Island Resort can also organise privately chartered flights or boats, if you're feeling flush.
Accommodation
There are plenty of accommodation options available in Cairns, if you require a stopover. AT stayed at Pullman Reef Hotel Casino.
reefcasino.com.au
There is only the one accommodation option on the island: Lizard Island Resort. Prices start at $1444 per twin room, per night, inclusive of gourmet meals, wines, cocktails and champagne, plus deluxe picnic hampers for the adventurous. (Additional charges apply for Cellar Master list, in-room mini bar and degustation menus.)
lizardisland.com.au
You can also camp on the island, but it's tough: there are no bins, no open fires allowed, and no roads, so you'll need to carry your gear to the camping area yourself.
Need to know
Children over 13 are allowed, but we wouldn't recommend it. This isn't the spot to bring the kids – it's a place to forget you have them!
There isn't any mobile reception here. However every room has a landline, and computers and Wifi are both available for use in the guest lounge. Wifi will be available in-room from early 2013.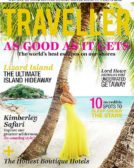 Enjoy this article?
You can find it in Issue 47 along with
loads of other great stories and tips.