Jennifer Pinkerton captures the visual essence of 2013's Laura Aboriginal Dance Festival as one of Australian Traveller's 2013 Bucket List edition. Here she explains why these photos were the pick of her bunch. 
There is something sacred and oh-so-special about the Laura Aboriginal Dance Festival. For starters, it's existed for centuries before white settlement, right in this spot, just shy of a town called Laura in Far North Queensland. It's a photography lover's dream, too – all that dust, late afternoon orange light and contrasting white paint on black skin. Over two days, I made about 3000 images. These are the five that mean the most to me.
1 Feather boy
This little lad was back stage with his buddies from the Yarrabah Guru Buna troupe sipping on bottled water and basking in the glory of just having performed. He didn't really want his photo taken. But when I asked he shrugged his shoulders and stared down my lens anyway with this intense, serene, yet slightly-pissed-off expression. It's my absolute favourite image from Laura. It's defiant.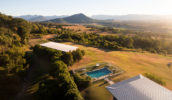 2 Smiley
Seconds before this shot was taken, this man's face was solid 'serious'. Some background first: the Central Dessert Marrinyama dance troupe live remote, traditional lives. They still perform circumcision and their costumes are made from materials like tree bark, feather – typically affixed to their skin with blood. As I described in the feature I wrote on Laura, the group exuded this palpable sense of pride, tradition and strength. "People think we're dead, but we've survived," said troupe leader Lance Sullivan.
Fellow journalist Fleur and I were taking a group shot backstage and all the dancers looked super serious. No smiles. Then, a huge grin, like a giant stretch of outback road, appeared on this guy's face. He was so proud and happy! He couldn't help himself! We dubbed him 'smiley' from then on. How good is this smile?! I felt something move in my chest when he sprung it on us. Warmth leapt straight from his cheeks into mine.
3 Preparing to go on stage
It was mid-afternoon when these older women from the Aurukun dance group were waiting to go on stage. I felt very privileged to be there with them, but I also recall being told to be very sensitive in respect to taking pictures of younger women without their tops on.
These women, however, were not in any way self-conscious. They were elegant and beautiful; and the soundtrack to their pre-stage warm up was laughter. As a general rule, Aboriginal women love to laugh. It's awesome! I thought their painted dots were so pretty, as were the knots of bright green leaves bunched in their hands.
4 Lockhart River Dancers at night
After dark the dance bowl fills with noise: the sound pounding of feet and throat-borne singing. The beat goes right through you, this deep bush bass. What happens, too, is that dust rises from dancers' feet and spears of coloured light, purple in this case, cut through the resulting haze.
I had a spot right beside a painted musician's drum when I made this image. All my media mates were off watching the footy in town (the slackers) but I wanted to stay and get my photography mitts dirty.
I climbed into bed that night with very grubby hair, full of dust. I remember feeling drunk on happiness, totally grateful for my job – sometimes it takes me places that really are outrageous.
5 Dance bowl at bedtime
This is my last shot of the night. I took it walking back up the little hill towards a caravan I shared with Celia, a pregnant photojournalist from the UK.
This image reminds me of all the light and soul gathering in that dusty dance bowl. It looks like a campfire from this far away. And it was, in a way. A big old fire ringed with 5,000 bodies, all drawing something inexplicable from its blaze.
The full story: 'Laura: Festival of ancient dance'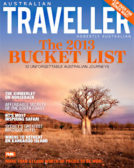 Enjoy this article?
You can find it in Issue 53 along with
loads of other great stories and tips.