For those women who don't mind a bit of off-road action, followed by glamping and pampering, the 'Dirty Girls' weekend in Queensland may be for you.
The women-only, two-day guided tour of Moreton Island's beach tracks and national park includes instruction on four-wheel-drive techniques such as tackling creek crossings and the finer points of driving on sand.
After the recreation, you retire for the evening at 'glampsites' at Bulwer; each tent has a queen bed, ensuite and verandah.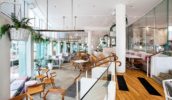 After-hours pamper options include manicures and morning yoga sessions.
'Dirty Girls', operated by Global Jamboree, is $299 per person, which includes ferry transfer from Brisbane, accommodation, meals and activities such as sand boarding.