Longest fence in the world at Cameron's Corner.
It's the biggest fence in the world. That may just seem like just another "biggest" claim, but to give you a feel, consider this: drive from Melbourne to Sydney and back. You're not even close. Now drive to Perth. You've almost driven as long as this fence stretches. (You've driven 5133km. Only 187km to go.)
Important in Australia's agricultural development, the fence has kept the sheep safe from dingoes and explains why we really don't see many at all across Australia's southeast (except of course the pure breeds on Fraser Island.)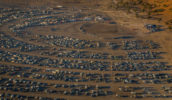 The best place to see and feel just how big a structure we're talking about is out at Cameron's corner, at the intersection of SA, QLD and NSW. Here the fence is "one chain" (22 yards, or exactly one cricket pitch) from the post that marks the meeting point of the three states. And it's great travelling country.
Loads of red sand, hot and very, very empty – yet it's still only semi desert. The Sturt National Park close by is the best place in Australia to see the red kangaroo, as opposed to the much smaller grey. And local operators claim that the wildflowers following spring rains are better than the most famous West Australian blooms.
WHERE // Cameron's Corner is 1320km west of Sydney, 1300km north of Melbourne, 975km north of Adelaide and 1460km west of Brisbane.

DID YOU KNOW? // WA's Rabbit Proof Fence was originally the longest continuous fence in the world (at 1833km) when completed in 1907.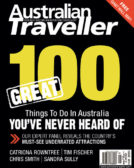 Enjoy this article?
You can find it in Issue 14 along with
loads of other great stories and tips.