Peta Burton is about to travel from Cairns to to Cape York. So what? Well she's going to walk it – 30 days, 1000 kilometres – all for her charity Jogs for Jugs. But that's not all: for her next big trip, she plans to walk the 'Big Lap' around Australia. Here's why, in her own words.
I know what you're thinking, I'm taking a month off in my 4WD and heading north for the Dry Season with cup holder placed at just the right height, the A/C on my side tuned in to 23.5 degrees and an iPad, iPod and iPhone within reach. Not quite.
My point A is Cairns and, yes, point B is Cape York but everything else in between is simply me, a pair of running shoes (supplied by my sponsors On Running Cloud Runners) and that long white line. I'm walking to The Tip, the most northern tip of Australia.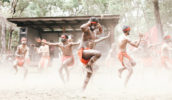 The Cairns to Cape Charity Walk is part of an initiative to take Jog for Jugs, a charity I created in 2011, to all corners of Australia. It is a free, non-competitive, beach jog fundraiser supporting the National Breast Cancer Foundation and Breast Cancer Network Australia on the Gold Coast, in Perth and now in Ayr. I thought the best way to spread the message was to take myself around the country and meet people face to face.
Before my Walk the Talk trip all the way around Australia, and having a baby, I am embarking on this shorter, 'simpler' journey on June 15 (all going to plan). The Dry Season, as many of us know, equals superb skies in the Top End. So with swag, Aeroguard and my Hema map packed, plus a crew of two, the bitumen beckons.
Cape York is often referred to as the 'last frontier'. In all the ways I can think of, it is. The crude landscape is well known for its untapped and unearthed tracks and trails that create migraines for Navmans.
The scenery forever wanders off on a terrific tangent and it is often a treat to succumb to average orienteering skills and wind up on a beachfront that makes a Louvre oil painting look cheap.
The Cape is sliced in half by the Peninsula Development and Telegraph Roads and this is my route from Lakeland onwards, having meandered along tar from my starting post in Cairns.
The adventure begins each day with 6am sunrises and ends with succulent sunsets revelling in their salutations to the day. Scenes of ancient Australia will tug at the heart of patriotism while inquisitive, irreverent wildlife jostle for their share of the road.
There'll even be magnificent explosions of red dust from eager 4WD travellers that engulf me and my hot pink t-shirt and leave my zinc-stained face tinted with dirt as I inch one foot in front of the other; a sobering reminder that what I am doing pales compared to the hardship some face to conquer illness, pain and suffering or find a way forward, whatever their age. A brim-full cup of 'concrete' will then no doubt be served with dinner, without shower, until the next hospitable, Cape York roadhouse.
Training for the five to six hour-day walk has equipped me with the right fitness, physically. Yet, maintaining the right mindset will be my greatest test; keeping it in check, on target and at ease, not only on a daily basis but hourly, perhaps even at times minute by minute, as the 20th day ticks over and I realise I have 10 more days to go.
I have been constantly asked during the preparation for this venture what my greatest challenge will be, and the answer is quite simply and unequivocally, me.
You can follow Peta's journey on Facebook to the Cape. You can donate by heading to Jogs for Jugs. If you're going to Cape York give Peta a wave, toot or even join her for a few ks. She'd love the conversation and company.