On the banks of the Thomson River, which is normally a billabong (unless flooded), is Longreach, a town known as the heartland of the Queensland outback for its central location and history. There's the Stockman's Hall of Fame and Outback Heritage Centre, which tells the history of outback farmers through interactive exhibits and shows, or the Qantas Founders Outback Museum.
"Service at a service station here included filling the tank and washing the windscreen. I almost fell over. It was like Back to the Future." – Matt Cleary
And for a very different side of the outback, there's also Lockie's Run. Known through word of mouth, Tom Lockie canvasses the local camping grounds for clients to go on one of his classic tours of a huge working cattle station. Lockie relates old yarns, bush lore and Longreach's history while going over red desert roads (once used as the old Cobb and Co wagon tracks) and past the bare trees and scrubland. The tour continues to a cave full of Aboriginal rock art with walls covered in handprints and animal figures, including a 20m rainbow serpent. No other tours go here – Lockie is the only one allowed by the Iningai, a local Aboriginal tribe, to visit this unique outdoor art gallery.
The locals also have a long-standing legend that says once you cross the Thomson River, you're fated to return to Longreach. And, with its amazing history and unforgettable scenery, why wouldn't you?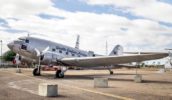 Where? // 690km (8hrs) west of Rockhampton.
Did you know? // The Qantas Founders Outback Museum houses Australia's first jet passenger aircraft and the ticket from the airline's first paying passenger, the then 84 year-old Alexander Kennedy. who flew 527km from Longreach to Cloncurry in 1922.
Return to: the 100 Best Towns in Australia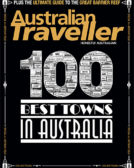 Enjoy this article?
You can find it in Issue 26 along with
loads of other great stories and tips.