An Isle Called Pumpkin
AT reader Louise Croese is the winner of our 13 Summer Weekends competition. Her entry on Pumpkin Island was so delightfully written we couldn't bear to touch it. For her troubles, she has won a season pass to the Nissan Moonlight Cinema venues Australia-wide valued at $2500.
"Pumpkin Island, a privately owned heaven off the coast of Yeppoon, where you hear jellyfish breathe and feed curlews by hand, who call thanks in the night. Did you know it was won by the previous owners in a game of cards? So the story goes." – AT reader Louise Croese, Preston Vic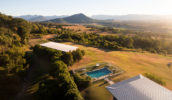 There's a tiny island about 20min across the water off the Yeppoon coast, so secret it may not be on the map, called Pumpkin. Rumour has it she was won in a game of cards by a local fella named Roger who ran it as a private tourist haven for years until he sold it recently. I hear you can still book one of the six or so cabins and charter a private boat to take you and everything you need to live there for a while.
I mention it because it's one of heaven's most tranquil masterpieces, made brilliant by the intensity of Central Queensland sunlight on water so clear you can see the dugongs loll from your hammock under palms nestled in the sand. It's so private it's possible you'll be the only person on the island. And even if you're not, there's an unwritten law to respect privacy, as if to speak out loud is sacrilegious. Noise or busyness interferes with the deep state of peace that's so tangible you can hear it breathe. Curlews cry at night nestled in the sand in your presence at the dinner table on the deck. Heads back, throats open, goose bumps make you shiver in the heat as they share their haunting sounds.
There is some of the most amazing coral in the reefs that you'll ever find, just sitting off the secluded beaches. You can stay on some of the other nearby islands or just visit Pumpkin for a day trip. You can circumnavigate the island in an hour if you hurry and ignore the incoming, outgoing tides, the dolphins, shells, the myriad of nature and the miracle of life, reminding you that you too are but a grain of sand in the bigger picture. Pumpkin strips you bare to frolic without care, the world another world away, until it's time to wade and climb aboard the ship of life and wave goodbye to heaven until another day.
Other things to do:
Visit several of the other 18 islands that surround Pumpkin, including Halfway Island, Humpy Island and Middle Island (check out its underwater observatory that looks out onto a fishing wreck).
Camp on nearby islands in the Keppel group, but take your own supplies and check for permits needed. Humpy has the best camping facilities in the group.
Hire a kayak and paddle around the Pumpkin.
There are awesome fishing opportunities off Pumpkin's shores. Basic fishing equipment is available for hire.
Details: Pumpkin Island
Where: 16km off the coast of Yeppoon (681km north of Brisbane, 40km east of Rockhampton) within the Keppel group.
Contact: Lyn or Quentin on Pumpkin Island, (07) 4939 4413
What to take: Strong garbage bags, fishing and snorkelling gear and dive shoes for walking on the rocks.
Where to stay: Pumpkin Island's Eco Resort. Five self-contained cabins sleep up to six, (07) 4939 4413.
Did you know: The Keppel group is also known as Wappaburra, which means "resting place."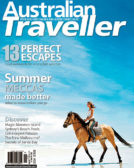 Enjoy this article?
You can find it in Issue 12 along with
loads of other great stories and tips.