Celebrate the Summer Solstice at Capricorn Caves Great Balls of Fire



Celebrate the Summer Solstice with a touch of otherworldly beauty.
You'll be joining celebrations of that blazing ball of beauty after witnessing the natural phenomenon that occurs every year at the Capricorn Caves.
Located just north of Rockhampton in Queensland, the Caves are situated right on the Tropic of Capricorn, and every day from December 22 until late January, during the Summer Solstice, sunbeams pierce a 14ft vertical shaft, illuminating the ancient subterranean limestone caverns below.
Marvel at one of the natural wonders of Queensland on guided tours that lead you through the maze of tunnels discovered in 1882.
Balls of bright, shining lights are bounced off the walls by reflecting mirrors. Like standing inside a giant mirror ball, it's certainly a sight not to be missed.
If you're lucky, you'll get to stand right in the centre of the light shaft. Don't expect to be teleported above, but watch the colours of your clothes beam around the cavern instead.
Guided tours depart daily for the Summer Solstice Light Spectacle from 11am but book ahead to avoid disappointment.
For the more extreme travellers, try out the Adventure Caving where the only light will be the little beam from your head torch. For more info, check out www.capricorncaves.com.au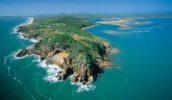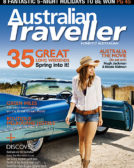 Enjoy this article?
You can find it in Issue 23 along with
loads of other great stories and tips.