North Stradbroke Island
The Pirates of North Stradbroke
"My best weekend away would have to be a place called Deadman's Beach on North Stradbroke Island. Don't let the name fool you. It's a quiet beach, with pristine, turquoise waters, abundant sea life – dolphins, turtles, crabs, fish – and powder-white sand. If heaven can ever exist on Earth, then this is it. Swimming in the reviving, soothing water, my worries and cares float out with the tide." – AT reader Anne Gibson, Bardon QLD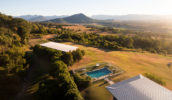 Faint-hearted friends, Deadman's Beach is not forbidden. You won't stumble upon shipwrecks, skulls, crossbones or lavish treasure chests. You might hear a slurring buccaneer bellow, "Arrr, me landlubbers! Come aboard fer a sunset torrrr!" But that, too, is in your imagination.
This North Straddie beach offers tranquil conditions and makes up a portion of the world's second-largest sand island. The low-key beach is gorgeous regardless of its gravely sombre name, which in true form accompanies a gruesome tale: a ship sank in the Coral Sea not far from Point Lookout's coastline in 1902 and, half a century later, a lone boot and skull were uncovered on the beach, giving birth to the infamous name. Rumour has it that the skeleton found was that of the chef on board the vessel Prosperity.
The rock pools and sand dunes on Deadman's are a favourite "haunt" for kids, and for those seeking solitude this beauty won't disappoint either; its low key and tucked away. Visually it's the jewel of the Point Lookout beaches, but without lifeguards patrolling this stretch, swimmers flock to other North Stradbroke shores. Fabulous. Deadman's might then be your own – the coastal conditions are calm and the swimming pleasurable. The sandbar's only accessible by foot and doesn't provide accommodation. Look for lodgings elsewhere on the island: operators offer exciting tours showing off the otherwise inaccessible areas. Get to Deadman's this summer, we'll seas ye there, arrrr.
Other things to do:
Another popular beach is the neighbouring Frenchman's Beach – again only accessed by foot
Blue Lake in Stradbroke's National Park is a great spot for cooling down. It has clear deep water and is surrounded by forested hills. It's just behind Main Beach.
Eighteen Mile swamp is a wetland with a huge variety of wildlife.
Evening beach BBQs are available, ask accommodation operators.

Details: Deadman's Beach
Where: 30km southeast of Brisbane, accessed by ferries and water taxis.
Contact: Stradbroke Ferries (07) 3286 2666.
Where to stay: You can camp on the beach at Flinders or Main, but you need a 4WD to get there. Call Stradbroke camping on 1300 551 253. Or at Straddie Views B&B, Point Lookout, (07) 3409 8875.
What to take: The book you've been meaning to read all year. If you can't read it here you won't get the chance anywhere.
Did you know: There's another Deadman's Beach in the British Virgin Isles. Our one is closer, though.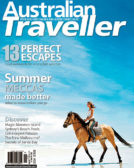 Enjoy this article?
You can find it in Issue 12 along with
loads of other great stories and tips.