The first thing you notice about Noosa is its distinct lack of dirty great high rises elbowing each other aside for the best view of the beach. The locals have made sure of that by protesting against overdevelopment. But even so, today Noosa is a cosmopolitan town with a main street (famous Hastings) full of restaurants, designer stores, pubs and clubs.
It also has pretty beaches, rivers and hinterland to explore that can be seen from anywhere in town. Whales and dolphins are no strangers to the cove, and abundant wildlife can be spotted from a boardwalk and coastal path winding east from the main beach into the clifftop national park.
Sure, Noosa was the only place in which the MyPOWER cyclists had their support Prius broken into on their big lap around Australia (they're still sore about a missing guitar and some polaroids), but the town remains a perfect holiday escape.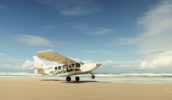 "Noosa is truly heaven on earth. This is where I want to retire, just spending my days on the beach relaxing and admiring the amazing beauty of this place." – Sally Obermeder
There's a laidback vibe in the air that can only be attributed to the beach lifestyle and the many artists, musicians and creative types that flock here.
It remains costly to visit, depending on the time of year, but as an informal yet upmarket escape, it's close to perfection.
Where? // 160km (90min) north of Brisbane.
Did you know? // Noosa has been a coastal escape for longer than you think. Between 1828 and 1839, convict David "Wandi" Bracefell tried to escape from Moreton Bay four times to run away to Noosa and live with the local Aboriginal tribe there.
Return to: the 100 Best Towns in Australia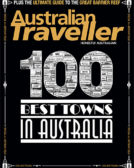 Enjoy this article?
You can find it in Issue 26 along with
loads of other great stories and tips.