If you can't beat 'em, join 'em. Instead of fleeing Noosa during high season, local Peter Olszewski decided to play tourist and see his town from a fresh perspective: yours. And the result? The perfect blend of local knowledge and a traveller's genuine wonder . . .
The summer stillness was shattered by the showy splashing of a glistening bass that had leapt from the river in a mad hectic arc, and then plopped back into the tea-tree tinged waters of the upper Noosa River reaches, leaving a circle of ripples in its wake.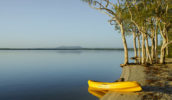 The fish-splash in turn provoked a screeching salvo from a gang of clown-like party-painted lorikeet larrikins tumbling, turning and twisting every which way in the gum tree branches overhanging the river.
Then the river reverted to its all-encompassing silence. Which was why I was here, sitting in the water in my rented kayak enjoying the stillness, a much-needed panacea for the state of exhaustion I'd found myself in after visiting the Rolling Rock Nightclub.
The Rolling Rock is situated deep in the heart of "the engine room," the local name for Noosa's legendary Hastings Street – an upmarket strip of bars and restaurants.
Hastings Street is the proverbial Eat Street; packed with expensive eateries, it represents one of the highest concentrations of restaurants in the country.
Every traveller that comes to Noosa knows Hastings Street, and most think Hastings Street is Noosa, a fact that causes derision among locals; even those who earn their daily crust from the plastic the visitors inevitably use to pay their bills on Fleece Street, as some locals refer to Eat Street.
I probably shouldn't report this – because it's in-school knowledge and I could be accused of doing a Mark Latham – but, despite the glossy brochures seductively wooing travellers, most people who live in Noosa profess to loathe tourists, and any local who can find a way to leave town during the peak Christmas period does so.
Those who remain – the restaurant workers and real estate agents – whinge all the way to the bank, and old-timers who doggedly stay put reminisce about the good old days when Noosa was a sleepy fishing and hippy village, you could park right outside the post office whenever you wanted and nobody had to put up with pesky visitors clogging the town and not knowing how to negotiate the roundabouts properly.
Actually, this is the perennial whinge heard in all popular coastal communities that rely on a tourist economy; locals lap up the amenities such an economy brings – like sophisticated coffee shops, fine eateries and nightclubs, the perks of a big city in a small community package – and for most of the year locals and visitors coexist peacefully.
But when the big Christmas/New Year season hits, the coastal resorts throb with chaotic busyness and the locals are cheesed off, harkening back to the good old days.
The good old days?
But it most assuredly is not the old days, good or otherwise. And in the good old days of the 1960s, when Noosa and Byron Bay were sleepy villages just being discovered by hippies and surfers, Bob Dylan sang "The Times They Are A Changing" – and of course he was right. We're now in the era of the sea change, which has seen the coastal resorts populated by immigrants from the city, which in turn has changed the sleepy nature of the resorts and put greater pressure on the infrastructure, which in turn is exacerbated when visitors flood into town like a surge after a hurricane.
Byron is hopeless during high season; its roads and infrastructure can't cope. But Noosa, with its manicured wide roads, copes better – even though the main beach occasionally clogs with a smelly algae and in some areas the sewerage occasionally overflows.
Those are the negatives, which most residents get lost in. The positive is that when it's high season in Noosa, the little town really comes alive with travellers from all corners of the globe.
It becomes international and it can be a lot of fun. Yes, it's crowded. And yes, on a hot summer's day the traffic banks up and the sun glistens from a thousand windscreens. But that's the way many tourists like it. In fact, last year I had an epiphany. As a local I decided to become a tourist.
If you can't beat 'em
Like most residents, I usually fled the town during tourist season, but then I thought: people are paying thousands of dollars for the privilege of coming to a resort that I've been running away from. So I decided to pretend to be a visitor, and I immersed myself in the tourist lifestyle on Hastings Street.
I teamed up with a group of French travellers and saw my hometown through their eyes, complete with their complimentary comparisons to the even more crowded and expensive French Riviera.
And I had a ball. I can understand why many tourists just hole up on Hastings Street and rarely leave the precinct. It's got everything for a resort holiday: bars, restaurants flanking a picture postcard beach, and nightlife which – while it isn't great and isn't a feature of the strip – affords fun for those who simply want to let their hair down and party.
But of course you can only handle so much of a good thing, and after a few days of serious partying on Hastings Street the Beroccas were no longer doing the trick. I reverted back to local mode and escaped to one of my favourite sanctuaries, the upper reaches of the magnificent Noosa River, one of the most beautiful waterways in the country.
In some stretches of the river, the run-off from the tea trees colours the water into a sort of mirror black. Objects poking from the water, such as old tree limbs, are perfectly mirrored in reverse, creating an arty effect, like Aboriginal sculptures. The shoreline is home to families of large goannas, and the tranquillity has a meditative healing quality far superior to any Berocca.
Abandon Hastings (just for a bit)
It's only half right to say that most of what Noosa has to offer is right on the Hastings Street doorstep. Sure, tourists can have the perfect holiday without leaving its protective precinct, but it offers only a small slice of the Noosa experience – albeit a very nice slice.
Most of my favourite Noosa experiences are away from Hastings Street. Like my daily walk along nearby Sunshine Beach.
This is an ocean beach, hence it's a moody beach. It can be glass smooth one day, washing machine wild the next. Whales can be spotted during winter, dolphins frolic almost year round and sea eagles whistle down from the trees in the nearby national park to pluck fish from the briny. The beach itself changes every day.
Some days it's just white fluffy sand, other days, particularly after storms, it's littered with seaweed, interesting detritus and gleaming seashells.
The mouth of the Noosa River at Noosaville is a delight. This area used to be the typical working class bucket-and-spade holiday resort. It's retained some of its old character but has also been gentrified and is home to a clutch of restaurants as good as the best on Hastings Street.
There's a beautiful walkway along the river. In the evenings the sunsets are magnificent, accompanied by a half-hour burst of extravagant noise at dusk as thousands of lorikeets wheel in from the sky to roost in the riverside trees.
Driving through the grass green cane fields on a lazy summer day with the blue-hazed jagged Glasshouse Mountains as a backdrop is an exhilarating experience, which easily conjures images of an idyllic Hawaiian scene.
Then there are the often quaint hinterland towns: Eumundi, with its bustling funky markets that are a must for most visitors; Pomona, with its old silent movie theatre; Boreen Point nestled on the shores of Lake Cootharaba, with its fantastic old pub where every Sunday afternoon there's a pig-on-a-spit feast and live music.
Nearby is an unusual delight for golfers: Kabi Golf Course, Australia's – and possibly the world's – only course that is certified organic. Most of the golf is played through citrus trees that provide juice for the course restaurant, a wonderful old restored Queenslander. And of course the restaurant's menu is organic.
A little further afield are the range towns such as Montville and Flaxton, home to art shops and Devonshire teas. Further down the range lies Maleny, which – with its new age ambience – is a sort of Byron away from the bay.
So, for the true Noosa experience, abandon Hastings Street for a day or two, as difficult as this may be. Call in at the Noosa Information Centre on Hastings Street, grab a map, hire a car and prowl the patch.
Have a coffee at Sunshine Beach, wander along the Noosa River and head out into the hinterland. It will put that edge on the perfect holiday experience.
DETAILS: Noosa
Best months to go:
Spring if you like peace and quiet; Dec-Jan if you favour a bustling, crowded resort.
Most underrated aspect:
Sunshine Beach.
Most overrated aspect:
The standard of food and service in some of the restaurants. If the waiters are surly, leave.
Be prepared for:
Traffic jams in summer, confusing roundabouts and a paucity of open restaurants on Christmas Day.
Watch out for:
The colourful daily parade of international life along Hastings Street.
Best value encountered:
A calm immersion in Little Cove, which is like being in a warm bath – and it's free.
ACCOMMODATION
Noosa Heads No. 1
Refers to its address rather than its ranking in Hastings St, but excellent apartments and penthouses are on offer here. One-, two and three-bedders with spa and BBQ.
Phone: (07) 5449 2211.
Website: www.no1hastings.com.au
Noosa River Caravan Park
Munna Point Caravan Parks are an endangered species in this neck of the woods due to the ever-increasing value of local land. But Munna Point exists and it's a real gem, situated on the river's edge. Locals even camp here for the weekend just for something different. It's well run and not rowdy – but also disciplined. And it's within walking distance of Hastings St.
Phone: (07) 5449 7050
Noosa Blue
Set on Noosa Hill just a short walk from Hastings St, this is the hot new place in town and is in the upper echelon of the best value accommodation category. Its self-contained suites are very private and popular with couples. Decor is modern, bright and bold and each of the 64 suites has a kitchenette and spa bath. The 24 penthouses have rooftop terraces with hot tubs and barbecues. Modern art lovers will be happy here because the owner's collection is a feature throughout the resort.
Phone: 1800 463 854.
Website: www.noosablue.com.au
Sandpiper
Another good value spot: self-contained apartments right on Hastings St. The kitchen is stocked with essentials and has a stovetop, microwave and dishwasher. Postcard views from some balconies.
Phone: 1800 066 672.
Website: www.rwnoosaholidays.com.au
French Quarter
Another fashionable serviced apartment-style resort smack in the action on Hastings St and handy to everything. Part of the Breakfree Resort Apartments organisation.
Phone: (07) 5430 7100
HOT TIP
First class accommodation at competitive rates can be found just off Hastings St, especially Noosaville and Sunshine Beach. During the holiday season free shuttle buses regularly make the run to Hastings St. For Sunshine Beach accommodation, including private houses, contact Sunshine Beach Accommodation via (07) 5448 0444 or www.dolphinbay.com.au
For accommodation throughout the area, contact the Noosa Accommodation Centre on 1300 790 830.
NIGHT SPOTS & PUBS
The Rolling Rock
Noosa's biggest nightclub attracts a younger crowd and on the right night it pumps. Knowing the right night is an in-crowd thing, so tourists just have to try their luck. Upstairs, Bay Village, Hastings St
The Rumba Bar
Upmarket, cosy wine bar for the older, smarter crowd. Open Wed-Sat, 6-11pm, the Thursday wine tasting nights are popular and great value with five choices for only eight bucks. 75 Hastings St
The Flamingo Bar
Eccentric "mini-club" designed by a couple of the town's leading restaurateurs and identities to suit their whims. It's small, fun and exclusive. Press the button and see if you're offered entree. A tip: dress well, be cool. The interior decor is a bizarre blend of reds, pinks and a brighter shade of puce. Upstairs, Bay Village, Hastings St
The Marble Bar
A new, smart, outdoor bar open noon to midnight seven days a week that provides tapas and snacks. 40 Duke St, Sunshine Beach
HOT TIP
Noosa Heads and Sunshine Beach Surf Clubs are worth a visit. The former is brash, with jingling pokies, but has fantastic sunset views from the balcony. The latter is more genteel and the beer garden has a view to kill for. The restaurant, run by Reg the Belgian Chef, is very popular – but its downside is that patrons must queue to order.
RESTAURANTS & CAFES
There are more restaurants per capita in Noosa than anywhere else in the country; they come and go or change hands (and quality) overnight. Good eateries can become bad and bad can become good with the flick of a champagne cork. A case in point is the super-recent state of shock Noosa found itself in after local institution Ricci Ricardo's Deck Bar & Grill went under after a less-than-profitable Christmas. The idea is to stroll Eat Street and experiment. I always use the staff gauge: if the staff are sulky and unfriendly, move on. But there are some stayers that are worth a visit because their quality rarely varies.
berardos
Spelled with a small b when it doesn't start a sentence and Noosa's premier restaurant. Run by ebullient former New Yorker Jim Berardo, who has become the main man of the strip. Class personified, continually wins awards, and is the best Hastings St has to offer.
Phone: (07) 5447 5666
Website: www.berardos.com.au
berardos on the beach
A sort of little brother of big berardos. More casual cafe-style with a fantastic view of Laguna Bay.
Phone: (07) 5448 0888
Website: http://www.berardos.com.au
Sails
Another of Hastings St's finest, with sunset views that make the cocktail hour an out of this world experience. At the time of writing, Sails scored an almost perfect rating (18 out of 20 in all categories) from Queensland's leading food writer, Lizzie Loel of the Brisbane Courier Mail.
Phone: (07) 5447 4235
Website: http://www.sailsrestaurantnoosa.com/
The River House
A relative newie but it's already won a swag of awards and is run by renowned chef David Rayner. It's in Noosaville, about four kilometres from Hastings Street, and it's a bona fide dining experience.
Phone: (07) 5449 7441
Bistro C Beach Bar & Restaurant
Another Hastings St stalwart: good food, superb view, great value. The staff and owner are always helpful.
Phone: (07) 5447 2855
Sierra Cafe Bar
Personal favourite: small and funky, straddles the footpath along Hastings St, has a small coffee bar with interstate newspapers where you can sit and just watch the colourful parade pass by. Often has great music.
Phone: (07) 5447 4800
HOT TIP
Venture a little further afield from Hastings St and try some eateries in Sunshine Beach or Noosaville. In Sunshine Beach, Duke St has the restaurants, and they're all within about 200m of one another. Try the casual Cafe Stella, the upmarket Japanese Wasabi or the superb Allegria. In Noosaville, most of the restaurants are along the esplanade, which is called Gympie Terrace. Gusto is a current crowd-puller. Sadly, most Noosa restaurants are same-ish in that they offer similar Mod-Oz fare, and therefore Magic of India in Thomas St is popular, even though it's not great cuisine. Also, for good coffee with an inner-city ambience (but no view), try The Canteen in Noosa Junction.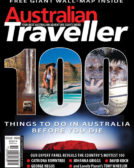 Enjoy this article?
You can find it in Issue 8 along with
loads of other great stories and tips.