If the best things in life are free, then the second-best things must cost just under ten bucks. To that end, budget travel hound Sarah Tierney has come up with some great ideas for saving money on travel in these lean times.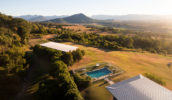 1. Every Wednesday afternoon the Port Douglas Yacht Club offers free sailing for visitors, with live music back at the club.
Cost: Free
More info:  www.portdouglasyachtclub.com.au
2. Visit the largest Buddha carved from a solid piece of jade when it comes to Brisbane City Hall from June 19 – June 23. Known as the Jade Buddha for Universal Peace, it stands at nearly 3.5m tall with a lotus and throne.
Cost: Free
More info: www.jadebuddha.org.au
3. The Brisbane Jazz Club is one of the only jazz clubs in the world to have its own dedicated premises.
Cost: Most sessions are free or have a gold coin donation, and some events are $10 and under.
More info: www.brisbanejazzclub.com.au
4. South Bank is a must-do while in Brisbane because everything seems to be there. You can swim at the Streets Beach, Australia's only inner-city beach, and there are a heap of free things to do here, from visiting museums to taking part in exercise classes.
Cost: Free
More info: www.visitsouthbank.com
5. Brisbane is also home to the largest urban subtropical garden in the world. Set in the heart of the CBD, the Roma Street Parklands have different precincts to explore and some of the best city views.
Cost: Free
More info: www.romastreetparkland.com
6. Cruise the river on the CityCats with an unlimited day ticket. Visit South Bank, New Farm Park and other places from only $5.80 (zone two pass). You can hop off and on as many times as you like.
Cost: From $5.80
More info: www.brisbane.qld.gov.au
7. See the footprints of the world's only dinosaur stampede at Lark Quarry where more than 3000 dinosaur footprints were discovered after being preserved for 95 million years. Found 110km past Winton, Lark Quarry also has a conservation park to explore.
Cost: From $10 adults.
More info: www.dinosaurtrackways.com.au
8. Catch a film at the State Library of Queensland in Brissy. See classic films such as Deliverance, Touching the Void and Back of Beyond in June.
Cost: Free, just make sure you turn up in time to see the start.
More info: www.slq.qld.gov.au
9. Queensland has some of the best beaches in Australia. It's free to lay your towel in any spot (provided it's not on top of anyone else's) and relax to the sound of the waves. Try Broad Beach, Burleigh or find your own favourite spot.
Cost: Free
More info: www.qldbeaches.com
If you have a great QLD experience under $10, share it by adding a comment below.