Diary of an Island Shoot
Diary of an Island Shoot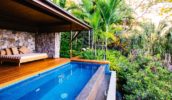 Homegrown label Bond-Eye Australia explored the Whitsundays recently to shoot their new swimwear catalogue. What better way to secure a cover for our special Islands Issue? AT spoke with designer/founders Tash Sassoon and Steve Philpott about the experience.
Where exactly did the Bond-Eye shoot take place? We shot Bond-Eye's Summer 2007 campaign in the Whitsundays, on Long Island and on various other islands around the Great Barrier Reef. We also shot on Whitehaven Beach, which has possibly the whitest sand throughout all of Australia, if not the world! The habitat of the Great Barrier Reef made it a spectacular place to shoot, with its amazing beaches, crystal blue waters, dolphins, turtles and seaplanes!
Who and what was involved in selecting the location? We like to be directly involved in the selection of our shoot locations, since the shoot is an extension of any swimwear collection – and the shots need to convey the look and feel of the collection. When selecting the location we had many factors to consider, including the travel between the different locations, whether by air or boat.
What were some of the challenges involved in the shoot – in particular shooting on a yacht? The weather is always a challenge, especially when shooting a swimwear story. We ran into some difficulties on this shoot; there seemed to be an extreme weather front moving through which meant it was pouring rain one minute, and was blazing sunshine the next!
It made for quite a challenging shoot since at most of our locations we had our model, Kristy, in the water or on the sand. Luckily she was very cooperative and was ready to go every time the weather turned in our favour.
Since we'd chosen quite remote locations, coordinating travel between the different locations was also quite stressful – we needed two boats, a seaplane and sailboat to get us to where we were going.
What were the most important elements of the shoot – the colours, the open air, the ocean? On this shoot we really aimed at capturing the general ambience of island life. All elements were important, from the colour of the ocean (which changes quite dramatically when there are grey clouds overhead), the strength of the wind (this can be a real problem for the hairstylist!) to the general look of the shoot.
It was important that we highlighted both the beautiful Australian seascape with Bond-Eye's summer collection so that customers could feel as though they too were part of the island experience.
* For more info on Bond-Eye Australia, check out www.bond-eye.com.au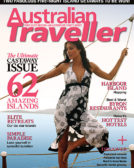 Enjoy this article?
You can find it in Issue 19 along with
loads of other great stories and tips.