A standard relaxing holiday this is not. A few of Australia's most famous faces are set to co-host one of the most thrilling challenges in one of the world's most beautiful spots this June…
What do you get when you combine a love for adventure with an island getaway? Paradise, of course.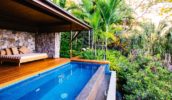 We're hearing that Hamilton Island, home to some of the most Instagrammable water in Australia, is changing how we perceive adventure, by hosting a brand new weekend workshop that sets to challenge guests with 'a variety of obstacles'.
Dubbed 'BRAVE week', the event will be held from 22–25 June, and is designed to provide opportunities for guests to test their courage through an array of adrenaline-filled activities. Guests will have the chance to participate in three different itineraries.
The first challenge is made for those who have a fear of heights but wish to laugh that fear right in the face. Skyfall features a 60-metre abseil from the top of the Reef View Hotel and may just be the best thing you ever do. For ocean lovers, the Deep Dive itinerary will give you the opportunity to learn to dive in the Great Barrier Reef; a once-in-a-lifetime experience for many. For those a little less adrenaline-inclined, the Lionheart weekend itinerary gives you the chance to take a step back and listen to a series of talks designed around the notion of learning to take bravery. A good stepping stone to build up to next year, perhaps?
Just in case you needed a little more incentive to push yourself, we're beyond excited to hear that the weekend will also host the likes of Ian Thorpe, Jessica Rowe, Celeste Barber and Paul De Gelder, who will reveal their own personal stories of bravery to guests. After that Megan Washington will take the stage, sharing an intimate performance alongside a dinner hosted by the one and only Tracey Spicer.
Part of the BRAVE weekend will also include the Great Whitehaven Beach Run, a special screening of the Gutsy Girls Film Festival, daily yoga, gifts on arrival, beautiful food and wine and all of the experiences that Hamilton Island has to offer.