Hayman has always been the most desirable island in the Whitsundays, a group of islands which lie towards the southern end of the Great Barrier Reef between the coastal cities of Mackay and Townsville. Today, the islands offer a myriad of accommodation options ranging from eco-tourism on South Long Island through to Club Med on Lindeman Island and mainstream mass family holidays on Hamilton Island. Hayman is the northernmost of the Whitsundays, with the Outer Reef about an hour away by fast catamaran.
It's said that when the aviation entrepreneur Reg Ansett chose Hayman Island as a suitable place for a resort, he had the choice of virtually every island off the Queensland coast. Few who've been to Hayman could argue with Ansett's choice. The view across the peaceful waters of the Whitsundays, with the other islands rising steeply from the glassy waters, is a tantalising vision of serene tropical paradise.
In the 1980s, the resort received the kind of makeover synonymous with that decade of excess. Sir Peter Abeles, another transport tycoon, decided Australia needed a large, superior hotel in the tropics. So he went to work building it. He bought a marble mine at Chillagoe in North Queensland to ensure that there'd be no shortage of the prestigious rock. Special high-quality pink marble was imported from Italy for the hotel's main foyer. But this was not to be a hotel where the marble stopped at the foyer: this was a hotel where the marble reached to the sea. Step into a typical room and you find floor-to-ceiling marble in the bathroom – only the fittings and the bath are exempt – and all the hotel's balconies and walkways are pure North Queensland marble. It might not be the world's best marble – there are plenty of flaws and the colours are not always beautifully matched – but it's marble. This extravaganza cost a cool $300 million. Since then there's been a $30 million upgrade, much of it spent on adding a fashionable quasi-Asian minimalism to the mass of marble found in the rooms.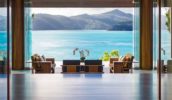 For all this, the hotel looks like the Palace of Versailles plonked on a sandy beach in the tropics. Others say it is what it is: a revitalised 1980s-style five-star hotel on an island. Still, Hayman is regarded as the premier luxury hotel destination in the Whitsunday group. It's the only Australian resort hotel to be included in the iconic "Leading Hotels of the World." It's also a delightful rarity on the Great Barrier Reef: a hotel which is not part of a larger chain. However, there is always a feeling that you're really staying in a luxury hotel rather than in a true tropical holiday destination.
To reach Hayman means getting to Hamilton Island first, usually by a Qantas/Jetstar service. There are some expensive options available, including seaplane and helicopter, but most will avoid these options to save some coins for cocktails by the pool.
Once you reach Hamilton Island airport Hayman's five-star service immediately kicks in. There are waiting hosts and hostesses who will usher you towards the island's gleaming white luxury yacht while hunting down your luggage. The yacht crew are all done out in Navy white with lapels, caps and suitably erect and deferential postures. Champagne (actually, Bimbadgen Ridge Sparking Semillon from NSW's Hunter Valley), juices, sparking and still mineral water and a tempting array of canapés are offered. Travellers can sit inside the vessel in air-conditioned comfort, outside under shade or upstairs soaking up the tropical sun. Guests are greeted upon arrival on the island, seated on a motorised train-like people mover and driven to their sections of the hotel.
Hayman is enormous compared to all the other upmarket island resorts. It has 244 rooms. The easiest way to get a clear overview of the hotel is to imagine it as a large bird or butterfly lying, with its wings outstretched, beside a pristine, white beach. The body or thorax is where the shops, reception, restaurants and administration are housed. It is also where the imported Italian pink marble is in abundance. To the west is one wing – known as the Pool Wing – which overlooks a huge swimming pool and offers rooms ranging from poolside (there are stainless steel ladders leading from the front balconies directly into the pool) through to fourth storey apartments with southerly views across the pool and the beach. In front of the pool are a small number of older-style ground floor apartments (beachfront and retreat rooms) which offer direct access to the beach. The hotel proudly boasts that the main swimming pool is the size of seven Olympic swimming pools, contains seven million litres of water all processed by the island's desalination plant, and that the centre pool is heated to 28°C.
The eastern wing, known as the Lagoon Wing, overlooks a smaller swimming pool and a large, lily-rich artificial lagoon. This is definitely the quieter side of the hotel and it also contains, on the top floor, all the penthouses. There's a minor problem with the lagoon: it's a watery magnet to birds. The sulphur-crested cockatoos, while attractive and exotic, are currently such a pest that if you don't close your balcony door, they simply walk into your room and, after using it as their personal portaloo, will help themselves to any foodstuffs you may have left around. This sounds kind of funny, but it's not such a laugh to patrons paying pocketloads for a private penthouse.
The rooms are typical of a good-quality, five star hotel. The bathrooms have separate showers, small spa baths, wall-to-wall mirrors and lots of marble. There is a large and comfortable walk-in dressing area and the main room – this is typical of a Pool or Lagoon suite – has high-quality cane furniture, simple summery watercolours on the walls, a king-size bed and a grand sense of holiday comfort.
The hotel has a total of 11 penthouses with seven different themes. There is the French, the Queenslander, Italian, Oriental, Greek, Moroccan, English, the Beach Villa and Lagoon villa. At the top end is the French Provincial – $4400 for the three-bedroom penthouse per night. It accommodates six people and the cost includes a 24-hour butler service. There is a kitchen where the butler can prepare food. At the bottom end the penthouses cost $2700 per night. Beach Villa ($3200), which is right on the main beach, has its own plunge pool and is intentionally bright, breezy and very open plan.
The hotel complex has five restaurants which cater for widely different budgets and tastes. The Beach Pavilion, located (naturally) on the beach, is where breakfast is served. It remains open for light lunches and snacks. Nearby, adjacent to the Lagoon swimming pool, is Azure, which mixes casual dining with a cocktail bar and is popular for people wanting an informal setting during the day.
At night time there are three restaurants. The formal La Fontaine, which offers classic French cuisine, prefers men to wear jackets and has full linen and silverware table service. Then there are the Oriental and La Trattoria which, as their names suggest, offer either Asian or Italian cuisine. All these restaurants are very expensive. Their price ranges are competitive with top-quality restaurants in a capital city, with entrees typically costing around $25-35 and mains $35-50. A two-course "Seafood Indulgence", with crabs, oysters and prawns, costs $80 per person with a minimum order for two.
Breakfast is in the Azure, which has a standard hotel bain marie, with a wide range of fruits, pastries and hot meals. In-room dining offers all food available in all the hotel restaurants open on any given evening – it's common for the Italian and Asian restaurants to open on alternative nights. There is also a romantic candlelight dinner ($80 – $130 per person) which includes your own waiter for the evening, is served on the beach, on your balcony, next to the waterfalls, or anywhere near the hotel.
If you have young children Hayman Island is the only five-star option on the Great Barrier Reef. It has both a crèche (for children aged from six weeks to five years) and a Kids' Club for ages 6-12, as well as a kids' menu in the restaurants. Hayman is also as much a hit with wedding and honeymoon groups as families – more than 150 weddings are hosted annually.
The complimentary activities include paddle skiing, a nine-hole putting green, table tennis, snorkelling, tennis, billiards, card and games rooms, catamaran sailing, squash, windsurfing, cinema screenings and guided tours.
Everything about Hayman Island seems excessive. It's a hotel a bit like Texas, where everything is bigger and better than everywhere else. There are 500 staff who work and live on the island – a community so substantial that there's a small school and some members of staff have children as old as eight who've spent all their lives on the island.
Hayman is a two-tiered experience. Those seeking a relatively modest holiday in the sun can eat at the outdoor cafes and stay in the smaller rooms and enjoy the hotel on a relatively modest budget. There are self-guided art tours (the hotel is the repository of $12 million worth of contemporary Australian art), garden tours and a pleasant eight-kilometre walking track.
At the other end are the penthouses and a rich diversity of upmarket tours and activities. For example, there is a three-hour "Reef Discovery Tour" by helicopter which not only provides outstanding aerial views of the outer reef (including the famous and beautiful Heart Reef – a coral atoll in the shape of a heart) but also lands at Reefworld, the largest purpose-built reef facility in Australia which offers fish feeding, snorkelling and semi-submersible rides. This costs $490 per person. Other high-cost alternatives cater for golfers, deep-sea anglers and those keen to cruise the Whitsundays by yacht.
A five-star stay at Hayman gives you access to a range of restaurants, extensive activities for children, plentiful tours and activities, and retail therapy by the ritzy shop-load. For access to excess – and hang the 'Taj Mahal of the tropics' barbs – it's tough to top.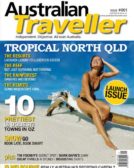 Enjoy this article?
You can find it in Issue 1 along with
loads of other great stories and tips.