With unprecedented access, Georgia Rickard goes deep inside the reborn One&Only Hayman Island.
There was once a resort in Fiji where my mother and her sisters were privileged to spend almost every holiday. The resort and its experiences had reached almost mythical proportions from the stories passed down to her children; it was with anticipation and nervousness that we – finally! – made a point of visiting the resort together, on a trip to Fiji a few years ago. But on arrival, as we looked about the beach, the bar, the bures; only one word made it out of Mum's downturned mouth.
"Oh," she said.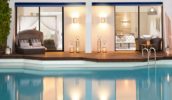 It happens, doesn't it? We visit a place, once, twice; the emotions experienced are irrevocably what connect us to that destination. Until, one day, we return. The shops play cheesy music. The salmon-pink paintwork is no longer charming. The beach, if not littered, is littered with fast food chains. And an overriding sense of disappointment settles in, not just amidst the street façades, or the emptying cafés, but on faces of those like my mother who, as we departed the resort that afternoon, swore fervently and repeatedly that she'd never again go back there, and would someone please fetch her a margarita?
It is a feat worth applauding, then, that Hayman Island has never suffered such a fate. Since inception as a fishing lodge in the '50s, the private island resort has ridden the wave of reinvention remarkably well, advancing and expanding all the way to the heady heights of global icon status in the '80s and '90s, before transitioning, relatively smoothly, into the quieter years of the noughties.
In this latter decade, though no longer seen as the sort of ultra-luxurious place where Rupert Murdoch and Tony Blair might slip off to for a quiet, pre-election conference as they did once in 1995, Hayman did well to retain its allure as a lovely retreat for domestic travellers: the sort of place where memories could be made, then remade, and luxury family holidays undertaken, without the overseas hassle or 'regular' resort crassness.
Erstwhile, the rest of the world would continue to seek out newer, more aggressive forms of luxury – the yes ma'am obsequiousness of Africa's exotic safari lodges, say, or the outrageous indulgence of Dubai's One&Only (and it truly is a one and only) The Palm; by a brand as well-known for its celebrity patronage as its flashy-chic style – while Hayman would retain its local folio of ardent admirers and, all things being equal, that would be that into the foreseeable future.
Or would it?
The fine line between heritage and modernity
When Hayman's owners announced new management last year – the very same team behind the aforementioned One&Only brand, no less – reactions were mixed. It is a challenge under any circumstance to walk the line between heritage and modernity, but this particular partnership seemed especially audacious. How on Earth could such a globally-focused brand successfully honour this distinctly Australian island – and moreover, an island with a firm emphasis on barefoot, not bejewelled luxury? Perhaps more to the point: was this reinvention even feasible? Or would it be tinged with shades of Madonna (rising from the ashes, yet again)?
They are the sorts of questions that haunt men at night, but the scene that greets us is comfortingly familiar: rolling mountainous greenery, liquid-glossy palm fronds, that dazzling Whitsundays water; arguably even more spectacular than usual on the sunny day we arrive. Staff lined up along the wharf, ready to introduce themselves as we step off the launch (itself a telling prelude of this new Hayman, if the new Hayman is to be an exercise in Perrier-Jouët and nautical chic), are each dressed in new uniforms designed by Australian brand ELLERY (a nice local touch), and – are they Converse sneakers?
Eighty million dollars has been poured into the resort's update, much of which has arguably been devoted to the immense stock of bubbles, both alcoholic and not, that the cellar must now surely keep. House label Perrier-Jouët flows not only during the 45-minute boat ride (glide) from Hamilton Island's airport but from the complimentary bottle that sits, chilling, inside every guest's suite on arrival, while waiters appear just whenever madam is feeling the need to quench her thirst with offers of either champagne or water (and not just water, but still or sparkling water, and the option of lime, or lemon, or no garnish at all if she prefers, and would she like it served room temperature or chilled?).
Champagne materialises again during the signature joy ride to Whitehaven Beach via Heart Reef (and what particularly plush helicopters this new fleet is comprised of); then once more during the celebratory evening that One&Only throws on opening night; and even again during breakfast, when staff playfully bring over a glass in reference to equally playful complaints of overconsumption. (They were Converse sneakers, it turned out, and they suit the staff's stuffy-free style of service nicely.)
The iconic Hayman pool and accompanying hotel wing, renovations of which have seen 90 rooms and suites meld seamlessly into 46 suites, have also clearly won out in the budget allocation. New cabanas (complete with day beds, swinging cane chairs and butler service); fence-free pool-access suites, allowing (strictly child-free) guests to literally slide from their deckchair into that water; extensions to the pool itself; and a particularly lovely lunch menu at the sleek new poolside bar, On the Rocks, are all welcome innovations – although the company's intention to attract American consumers reads clearly between menu lines, with stateside flavours and terminology – 'sweetcorn' salsa (on a porchetta baguette, $28), chipotle mayo (on grilled fish tacos, $23) and even ranch dipping sauce (served with curiously moreish bacon-wrapped avocado 'fries', $12) – sprinkling the pages between occasional mentions of local produce.
Hayman versus qualia
There are many more improvements to be discovered – six re-imagined and one new restaurant offering various types of cuisine and atmosphere; a state-of-the-art gym overseen by Elle Macpherson's ex-trainer James Duigan; a pedicure experience (and it is an experience) created by the so-called 'king of naked feet' Bastien Gonzalez – but it is here that we should stop and acknowledge the inevitable comparisons that will be drawn between Hayman and nearby six-star offering on Hamilton Island, qualia.
For though the latter has arguably made its USP to be unashamedly Australian – pavilions of re-appropriated Australian timber; a landscape of eucalypts and wallabies; a general manager who makes a point of personally greeting each guest, as if welcoming them home, as they arrive – the length and breadth of One&Only Hayman Island feels as internationally-focused as that poolside menu; as though management has hand-picked elements of service and luxury from across the globe, wound them carefully around one of the world's most breathtaking locations, and poured the lot into the mould of a resort that any modern luxury traveller could confidently appreciate.
It is a clever – and valid – alternative. General manager Guenter Gebhard might not greet each person by name, but his staff certainly will; each of them trained to memorise and use it for the length of your stay. They will also unpack your suitcase, quietly organise for that evening's outfit to be pressed and returned to you, and even make the decision of what that outfit should be, if that is to your jetlag-addled brain's liking – all as a complimentary part of the service, of course. It is at once more formal than qualia, and yet at least as relaxing to be so well attended to; a feat that should be applauded for the sheer scale on which it is carried out.
But, for this particular traveller – and it is my third trip here, in as many years – it is none of these things that distinguish the 'new' Hayman resort as a unique, bucket-list-worthy destination. Admittedly, you'll find no other resort offering extraordinary service levels on this scale in Australia, and the new innovations on-island – from the cabernet sauvignon soaked-and-dried sea salt served in signature restaurant Fire, to the really quite remarkable overhaul of almost every suite here – are enough on their own to make a trip here worthwhile.
But really, what makes the new Hayman so special is both as brilliant, and as simple, as it should be: the old Hayman. It is wandering those lovely gardens. It is hearing the delighted screeches of cockatoos overhead. It is that speckled aqua water, twinkling through that outrageously gorgeous landscape, and it is all of those things with added sleekness and a new level of prestige; but it is still thoroughly Hayman, and what an achievement (and relief) that is.
The clincher
The clincher for me, though, occurs quite by accident, when I bump into one of the hundred-odd staff who stayed on despite new management. Ryko is a wellness therapist, with whom I sat and chatted at length during a visit here last year, about his prior involvements with several remote indigenous communities and his lifelong spiritual journey (among other such light-hearted matters). On this trip, he tells me of a moment earlier in the month, when One&Only extended a quiet invitation to the area's indigenous elders to come and see the island. Having been privately owned for so many decades, he says, it's been shut off to them for some 70 years.
"One of the elders told me that she was just five or six years old when she was last here, when her father brought her here by boat," Ryko says. "Since then, she said she's only thought of Hayman as 'reserved for the elite'."
Now having been here, he continues, "she said she felt relieved. 'I can rest and relax, knowing it's beautiful' – they were her words."
The strength of my reaction surprises me – no one's ever invited them before? – and even so, I find myself simultaneously agreeing with the elder. There will be many Hayman devotees who'll make their way here filled with trepidation, but few, if any, will find themselves reacting as if faced with what's become known in my family as 'the Fiji surprise'. And yet this turns out not to be the clincher at all.
In fact it takes three more days for that to arrive; when, once more thoroughly ensconced in my urbane existence, I finally turn my attention to unpacking my tropical suitcase. The layers of tissue paper in which each of my possessions has been carefully folded and wrapped (and by my butler Manni, no less, who had endearingly insisted on packing my suitcase for me) are the first surprise. Next is the keepsake, hard plastic luggage tags, which have my full name imprinted on them in embossed silver.
Then Manni's hand-written note slips out. A few memories slip out with it, too.
"Dear Ms Rickard," he begins – another endearing trait, despite my repeated insistence that he use my first name – "Thank you for allowing me the pleasure of looking after you…"
I unwrap a few more things, allowing myself just a few moments longer to believe that my life is always a place where I'm afforded such care. Then I put them away.
The Details: One&Only Hayman Island
Getting there: The easiest way to get to One&Only Hayman Island is via flight to Hamilton Island (serviced by Qantas, Jetstar and Virgin). Staff will meet you at the airport, collect your luggage, then whisk you to Hayman via a 55-minute luxury boat ride ($175 per adult, $87.50 per child), helicopter transfer ($660 one-way for two persons) or seaplane ($790 one-way).
Staying there: There are several different accommodation options available, from $730 per night for a Hayman Lagoon Room, to $10,600 per night for the Three-Bedroom Owner's Penthouse for up to six guests.
Playing there: Fishing, windsurfing, diving, snorkelling, private picnics, bushwalks, kids' club, restaurants, bars and one extremely lovely spa: you won't be bored. Do make sure you take a helicopter joy flight. Well worth it.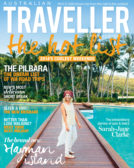 Enjoy this article?
You can find it in Issue 58 along with
loads of other great stories and tips.