The Molle Group, including South Molle & Daydream Islands, has a mixed record. Daydream Island is considered a "good" island, but the resort at South Molle Island has had more than it's fair share of controversy.
Extremely popular Daydream Island is just north of Long Island and across the Molle Channel from the mainland. It's a small, lushly gardened island dominated by the recently reopened 296-room Daydream Island Resort and Spa (www.daydreamisland.com). The resort reopened after a $140m refurbishment and rebuild thanks to cyclone Debbie who flooded all the rooms and lifted yachts and deposited them in the hills.
Previously known as West Molle Island, Daydream was renamed in the 1930s by a yachtsman who bought everything in sight, then renamed the island after his yacht.
Relatively flat, the low peak of the island contains a small but dense tropical jungle inhabited by parrots and tiny sunbirds, accessed via a short walking track. The resort manages to squeeze in something for everyone, with the obligatory lagoon pools, open-air restaurants, mini-golf and water sport activities all included in the tariff. However, it does have two unique attractions that make it stand out from the crowd: kids and the young at heart are attracted to the vast outdoor aquarium containing a kaleidoscope of fish and coral (a great alternative to donning a snorkel); and pampered ladies head straight to the Rejuvenation Spa that specialises in, naturally, marine-based spa products. Treatment rooms are tucked far from the buzzing resort overlooking the azure sea.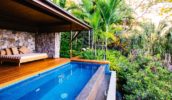 Nearby South Molle has undulating grasslands alternating with pockets of lush rainforests cascading down into secluded bays and fringing reefs. The island is virtually joined to Mid Molle by a tidal causeway, offering low tide reef exploring. There are five camping spots on South and North Molle, as well as tiny Planton and Denman Islands nearby, offering true castaway experiences.
The resort on South Molle islans has been through various incarnations and since Cyclone Debbie has languished in s a state of disrepair.
Getting There: Boat transfer from Airlie Beach or Hamilton Island.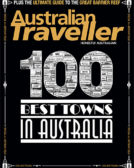 Enjoy this article?
You can find it in Issue 26 along with
loads of other great stories and tips.