The Perfect Island for Family Castaways
The Perfect Island For Family Castaways

AT reader Chris Cavanagh has found what he believes to be the best Australian island resort for all ages.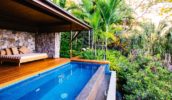 I really couldn't fault Lindeman Island. The resort might've needed a little fixing up but that didn't bother us. We had the time of our lives and we're planning to go back late this year or next year. This place really is as good as it gets and needs to be shared with your readers. (PS: I'm a new reader and love your magazine! Keep up the good work.) – Chris Cavanagh, via email

We visited Lindeman Island in 2007, and it was by far the best holiday we've ever been on. For a family of six with four kids aged seven to 16, this place was absolute heaven. You're guaranteed a fun and exciting holiday, and "we're bored" will never be heard. Here's why:
Located in Queensland's Whitsunday Island group, Lindeman Island is one of 14 Islands that make up the Lindeman Islands National Park. The 790ha island is one of the most diverse in the area, containing large areas of eucalypts, dry rainforest, grassland and mangrove forest and is home to many animal species such as bush turkeys, black flying foxes, green tree ants, green tree snakes and children's pythons to name a few.
And set on this beautiful island is the superb all-inclusive Club Med Resort. The 218-room retreat lies on the front beach of the island and is considered one of Australia's best family holiday resorts. And you can see why. The resort has a fully equipped circus school (with a 10m trapeze), an indoor basketball stadium, an outdoor oval, archery centre, three tennis courts, a nine-hole golf course with a driving range, a beach volleyball court, a water polo pool and three swimming pools. The kids will never get bored. The islands staff – "GOs", as they're called – are some of the friendliest people you'll meet and they're the ones that organise sporting games for the guests to play. There's always something happening, and if you want to get away from it all, just drop the kids off at kids' club and head up to the spa for a relaxing massage.
The food is absolutely magnificent. With three meals a day, snacks and full bar service included in the price, there's no need to reach into your back pocket for your entire stay. Full buffet breakfasts, lunches and dinners are included. The kids will love the unlimited soft drink, juice and ice-creams available at any time of the day from any of the bars. Or you could sip a cocktail or beer at the swim-up bar in the main pool, knowing it won't cost you any extra.
There's plenty of other entertainment too. Beginning on the stage at 8:45 each night, the GOs put on themed shows. Of course you're not left out, since most of the shows have audience participation. Afterwards, at around 9:30, it's time to test your vocal cords with a little singing in the karaoke contests. And if by then you're not tired out and want to go to bed, head upstairs were the disco room awaits, featuring a DJ from 10pm each night.
But if it's surf, sun and sand you want, go swimming, kayaking, catamaranning and snorkelling, or just lay back and sunbake on one of the banana lounges on the beach and relax with a drink from the bar. The island averages a yearly temperature of 26°C, so almost any day is good for water sports.
So if it's about tie you went on a good holiday, look no further. Lindeman Island won't disappoint anyone.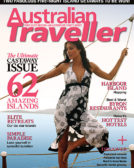 Enjoy this article?
You can find it in Issue 19 along with
loads of other great stories and tips.