Just off the northern tip of Australia, AT discovers a way of life as far removed from the city as possible.

AT visits Poruma Island, a tiny rock just off the tip of northern Australia, to discover a way of life as far removed from city life as it's possible to be . . .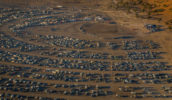 At a meeting point between the Arafura and Coral Seas, midway between Papua New Guinea and Cape York Peninsula, lies Poruma Island. Only two kilometres long and less than half a kilometre wide, there's just enough room on this tiny dot in the ocean for an airstrip, the township and two magical traditional style bungalows which make up Poruma Island Resort.
"Our main aim is for people to come here to get away from mobile phones and the rush of city life," says Alan Vickery, manager of the resort. "And if you need to use that phone you have to stand on your tiptoes in three feet of water at the end of the top of the island. And even then it's not too certain you'll get reception."
Of Melanesian descent, the Poruma people of the Torres Strait only number about 200. Their ancestors once built houses of grass, coconut leaves and trees that floated down from the Fly River jungles of Papua New Guinea. They speak Kalaw Lagaw Ya or Yumiplatok, which adopts many of the words and phrases of its New Guinea neighbour.
"One of the gifts of this island experience is that you can interact with the people," adds Alan. "They welcome visitors to taste the fantastic seafood, learn about the crafts and history, and just hang out with the locals on the jetty throwing in a line. Catching a fish is a value add."
And there are no crocodiles, so springing out of bed and diving into the turquoise sea is absolutely okay. "But everything works on island says time," Alan. "This is a laidback lifestyle."
Life on the island has been described as "a process of being absorbed into a large and infectiously happy family." Broad smiles greet visitors at every turn on the sandy streets. It's impossible not to connect with the Torres Strait Islanders – from sharing a celebratory meal with Poruma families under the massive almond tree in the centre of the resort to heading to the coral reef that encircles the tiny isle on a fishing excursion, a sojourn to this coral paradise is an adventure in every sense.
Local boys welcome the opportunity to take keen anglers to favoured fishing haunts. And that trevally, sweetlip, coral trout or red emperor will definitely become the centrepiece of the nightly privately served dinner in your bungalow.
Before departing, embrace the Robinson Crusoe concept and spend a day with only a packed lunch, a book, a towel and sunscreen on one of the many isolated coral islets surrounding Poruma. And on your inevitable Thursday Island stopover from the mainland, be sure to take the time to visit the Gab Titui Cultural Centre, representing 20 communities of the Torres Strait. Here you'll see objects of great cultural significance, along with contemporary art and cultural items displayed and protected for future generations.
PORUMA ISLAND RESORT
Where // Poruma Island is in the Torres Strait between mainland Australia and New Guinea, 150km northeast of the tip of the Cape York Peninsula. The Resort has two bungalows and accommodates up to six people, $560 per couple per night. Includes breakfast, lunch and dinner (served to the bungalow). There are also 15 backpacker-style single donga rooms ($70 pp per night).
Contacts // 07 4090 0170, res@poruma.com, www.poruma.com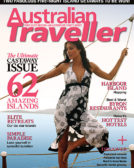 Enjoy this article?
You can find it in Issue 19 along with
loads of other great stories and tips.