It's the sunniest city on the Qld coast (averaging more than 320 days of sunshine a year), it's surrounded by water and it's on an island that's 54 percent national park. Sounds like heaven. Well, heaven is floating just off Townsville on Magnetic Island.
AT's Great Barrier Reef expert, Fiona Harper, is building a home there and has this to say: "One of the few islands within the Marine Park where you can purchase free-hold land, the most incredible thing about Magnetic Island is that you're living in a national park, on an island less than two hours from a city."
With fewer than 3000 residents on the whole island, Picnic Bay was once a popular picnic spot for European tourists (hence the name). But a place with this much history, great fishing and mountainous terrain was always going to be a holiday destination, so the town's first resort was built in 1890 and a regular ferry service to the island was established from Townsville in 1901. Today, a trek and a hike lead to the remains of a WWII military base, The Forts, with gun emplacements, command post and observation post all free to explore. And, with 360-degree views of the surrounding bays out to the ocean, you'd be insane not to. Mt Cook rises 497m from the centre of the island and is surrounded by massive granite boulders, tall hoop pines and patches of rainforest – a haven for Australian wildlife both recognisable and rare.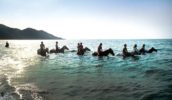 Where? // 10km north of Townsville.
Did you know? // The island's name came about because Captain Cook believed its large rocky outcrops were messing with the compass on the Endeavour as he sailed past in 1770. The area has since been studied using various instruments to explain what may have caused this effect, but nothing has been discovered.
Return to: the 100 Best Towns in Australia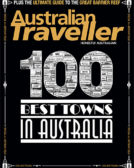 Enjoy this article?
You can find it in Issue 26 along with
loads of other great stories and tips.