Bushfires are the sort of things everyone wants to avoid – they're unplanned, out of control, a danger to life and property and can cause massive damage. But there's no denying that watching and listening to those huge flames is a sight and sound that really emphasises the power of nature.
The people in the Burdekin region of Queensland, however, go out and start massive fires every night between May and November.
"Almost as Australian as watching lightning crack over cane fields . . . "
– Greg Barton
An hour south of Townsville, the townsfolk set fire to the many fields of sugar cane (in a controlled manner, of course) in order to rid the cane of pesky leaves, and leave the tall canes blackened and ready for harvest.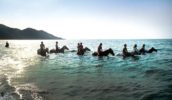 You're invited to come and watch, with a guarantee that you'll never forget the heat and sound of a cane fire as long as you live.
Did you know?
Raw sugar is Australia's second-largest export crop, with total sales of approximately $2 billion each year. Ninety-five percent of all sugar cane in Australia is grown in Queensland.
How to get there
The Burdekin region is located a 30-minute drive south of Townsville in the delta of the Burdekin River.
Qantas has regular flights to Townsville from Cairns, Hamilton Island, Mackay, Brisbane, Sydney and Melbourne, and to Proserpine from Brisbane and Sydney.
Virgin Blue offers regular flights to Townsville from most major cities in Australia.
Best time to go
Anytime, but the sugar cane fields burn between May and November.
Further information
Useful websites:
http://www.burdekin.qld.gov.au
Detailed visitor information from the Burdekin Tourism Association
** This is our original 100 Things to Do Before You Die. First published in 1996. There is an updated 100 Things To Do In Australia Before you die, published in 2011.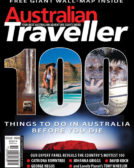 Enjoy this article?
You can find it in Issue 8 along with
loads of other great stories and tips.