Mike Larder takes a mighty caffeine hit from Allan Sharpe to get the full story behind the man behind the world's rarest and most expensive coffee found believe or not only in Australia in Herveys Range south west of Townsville.
One sip and I wondered: is this what a coronary feels like? I have to say I baulked when offered a tiny cup of this pungent, brown elixir.
I gave up coffee a quarter century ago, but I still love the nostril-moistening aroma. However, as an unswervingly dedicated emissary of AT, I felt compelled, as a heroic gesture, to sample a thimbleful of this frothy, brown nitro. It smelled rich, tasted rich and in fact was undoubtedly tangy and vaguely chocolaty. But shit it came with a kick.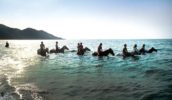 Shit is, in fact, an integral component of the brew's robust succulence. Called Kopi Luwak, it's the world's rarest and most expensive coffee, gaining its legendary powers by first passing through the digestive system of the Asian or common palm civet, a racoon-cum-weasel native to Java and Sumatra.
As I take my first tentative sips of this devil's brew, Allan Sharpe peers at me quizzically, amused by my facial contortions. Compactly built, amateurishly self tattooed and simply clad in a dark tee and blue jeans, Sharpe is Australia's sole purveyor of Kopi Luwak. Shaded under the verandah of a bush hat, he tells me his extraordinary life story in a measured, husky whisper.
Abandoned by his mother, he didn't enjoy the boiling baths and bastardry meted out at the Victorian orphanage where his pugilistic father dumped him as a six-year-old. He only went to school to eat, he says, and turned feral, living off his wits and the streets. When he wasn't eating, he'd fight. An unlikely survivor of 49 bruising years, Sharpe recalls that he "loved the biff." His father, a brickworks labourer, was a brawler too. "He got shot after refusing to throw a bout in South Melbourne."
"He only went to school to eat, he says, and turned feral, living off his wits and the streets. "
Allan turned skinhead and mugged and rumbled his way through pubescence. A chef's apprenticeship at 15 went nowhere, so he drifted, first to the streets of Melbourne, then to the violently unpredictable life of a gangland thug. Throwing opposing hoodlums from trains was de rigueur. Unsurprisingly, he made enemies. Prudently, he got out of town.
Tent fighting provided a slim but satisfyingly violent living, and Sharpe confesses to some awkward, probing interviews with Gold Coast rozzers, after which he swiftly vanished into Far North Queensland. Picking fruit was a drag, so he ran a cadaver shuttle service between tropical Townsville and Ayr, his frozen cargo bouncing around in the back of his decrepit Ute, respectfully wrapped in an old blue tarp.
By 18, Sharpe was carting pool tables to Mt Isa and returning with extremely dodgy cargoes of high calibre weaponry of the type chosen by eight out of ten discerning pig shooters – or worse. "I've no idea whether it was legal or not," says Sharpe. "I didn't ask."
Hell, life was good, if a little unpredictable. He never made plans. He's a teetotaller, loudly eschews tobacco and never did drugs. "I can't blame grog or drugs for my behaviour. It was just the only way I knew how to survive."
He boxed, played Aussie Rules, did a stint down the mines in The Isa, rode dirt bikes at Ayr's Pioneer Park Speedway, drove a battered EK Holden and rode a BSA 650 Thunderbolt. "I was out of control," he admits. "I didn't think I was going to live for long."
Then he met Michelle, married her, calmed down and started up a pest control business before talking his way into a ten-year executive gig with Golden Casket Lottery.
"A piece of piss," chuckles the still semi-literate Sharpe talker. "They weren't selling themselves as well as I reckoned they could, so I baffled 'em with bullshit and walked out as their corporate image coordinator. They gave me a budget of millions . . . and I can't even add up!"
Then his brain haemorrhaged.Devastated and watching her beloved lying inert, attached to a bewildering array of blinking machines, Michelle was taken aside by Sharpe's surgeons and asked to brace for the worst. Which is why the sudden appearance of the patient, trailing a tangle of electrodes and plasma drips ripped from bloodied veins, came as such a profound shock to a tearful Michelle. She promptly swooned into the arms of an equally gob-smacked surgeon.
With his brain still undergoing repairs, Sharpe bought 25 hectares of the Herveys Range, 30 minutes weaving ascent from Townsville, where lurked the derelict remains of the Eureka Hotel, built circa 1865 and once catering to thirsty bullock teamsters and Cobb & Co tourists. The split-log boozer is reputedly North Queensland's oldest building and boasts a resident ghost. Sharpe restored the place.
"I was going to run some cattle and a few sheep," whispers Allan, whose larynx is still semi-functional (as are a few other parts of his body). The medicos predicted he was stuffed, "so I healed myself. I drove Michelle nuts. My memory was shot and I had to learn to speak and function all over again.
"I never intended this," he says, peering about his rustic little empire. "Folks would stop and ask directions. We'd chat and I'd make 'em a cuppa tea. 'Bugger it,' I thought. 'I'll start a tea room.'"
He coaxed friends to bake scones and yummy cakes, raided auctions for the décor, nailed a new tin roof to the place and presto. But he still needed a signature coffee and an attention grabber. So he trolled the web and the rest is, like his reborn pub, history.
Allan's exorbitantly priced brew provides his passing trade and regulars alike with "an experience" of a coffee powerful enough to start a rusty engine. I lick the residual suds from my tiny cup and savour the tang. He compresses my proffered hand in a walnut-crushing grip and wanders off among the shady foliage to chat with his clientele.?
Heritage Tea Rooms
Where //
Lot 6, Thornton's Gap Rd, Herveys Range, around 30min drive southwest of Townsville. The coffee sells for US$1200 per kilo, or $50 a cup. }
Contacts //
(07) 4778 0199, www.heritagetearooms.com.au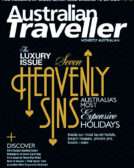 Enjoy this article?
You can find it in Issue 22 along with
loads of other great stories and tips.