Australia's Great Barrier Reef has been listed in the top ten nominations for the New 7 Wonders of Nature. By Victoria Dalzell One of Australia's most iconic natural landmarks, The Great Barrier Reef, is currently in the running for being included in the New7Wonders of Nature campaign.
As the only country with two nominations for the prestigious claim, Australia's Great Barrier Reef was named one of the top ten finalists, while Uluru made it to the top 28.
The project is being run by The New7Wonders Foundation, established in 2001 by Swiss-born Canadian film maker, author and adventurer, Bernard Weber, to help protect the World's man-made and natural heritage.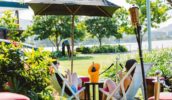 The work of The New7Wonders Foundation is supported by The Seven Wonders Organisation, and the foundation draws on business and commercial partnerships rather than government funding.
Voting has already started for the New7', and winners are to be announced on Friday, November 11 2011.
With only five days to go, the Australian icon still faces a fierce battle from the likes of the Grand Canyon in the US, Vietnam's Halong Bay and the Dead Sea.
The Great Barrier Reef is the only live collective organism on earth that can be seen from outer space. The Reef is also the world's larges coral eco-system, made up of over 9000 islands and 300 individual reefs, spaning between 1 – 10000 hectares each. The reef is home to over 900 species of coral, 1500 species of fish, 4000 species of mollusk, mammals, turtles, endangered species such as the large green turtle and the dugong.
The Great Barrier Reef is truly one of the most beautiful places on earth and rates as one of the top world dive sites and is a major Australian tourist attraction.
To vote, visit New7Wonders of Nature