Anna Warwick on the winter appeal of Cairns  Cairns is often seen as a transit city, but I think this rural gem of far north Queensland is much more than that.
From a window seat to the right of your plane as you're coming in to land, you may glimpse the quays and islands of the World Heritage listed Great Barrier Reef and rollicking gypsy whales. The neat, low-rising harbour city is splashed with luminous colours, reflecting the coral gardens at its doorstep. Lush fig trees and ample gardens are sprinkled with fairylights, while the Casino has a massive tropical atrium atop its shell-like domes. The shops are painted with beautiful murals by local indigenous and Torres Straight Islander artists, whose works also appear in the Canopy Artspace gallery on Grafton Street. If that wasn't enough to set the atmosphere, consider this: central Cairns is surrounded by rolling tropical mountains. So, even if you stay at the Hilton, the Shangri La, Rydges or any of the posh hotels downtown you'll experience the tranquil relief of being in nature.
This pretty city is home to a diverse population of approximately 150,000, and now's the time to go, according to the locals – they reckon winter is the loveliest season; warm and dry, with a cool sea breeze. You can wear a light jacket or get away with a tshirt. Nights are cool and there's lots to do – musos play in local bars, the funky new Tank Arts centre hosts visiting and local acts, and people of all ages dance and hang out there.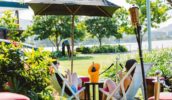 Cairns' food scene is directional and offers native and international tropical goodies fruits and veggies as well as seafood. Visiting chefs go crazy for the local farmers markets. Where else would you find fern tips in a stir-fry? There are fabulous restaurants in the hotels and on the streets. Hanuman chef Jimmy Shu has a Thai restaurant at the Hilton – don't miss the barramundi in yellow curry or his signature hanuman oysters… pure alchemy.
Get a flavour of lovely Cairns in this winter at the fabulous 51st Cairns Festival, between Friday 17 August and Sunday 2 September. The festival celebrates regional Queensland's diverse and colourful culture.
Sarah Blasko will perform at the Botanical Gardens on August 19th, beside a Jonathan Brilliant art installation. The Australian Ballet will dance Don Quixote. Singers Colin Hay (Men at Work), Lanie Lane and Mia Dyson will let rip, as will the country's best comedians. Indigenous acts include singer/songwriter Frank Yamma and jazz singer Grace Knight.
Don't miss festival highlights such as the opening parade and fireworks on August 18th; the vaudevillian sideshow on the Esplanade, Cairns Indigenous Art Fair at Cairns Cruise Liner Terminal, the Tropical Pride Festival at the Tanks Arts Centre precinct, and the Reggaetown festival for the closing weekend.
Whatever you do, you must take a day to cruise out to Green Island and snorkel over waving sea grass, lazy urchins, shimmering blue fish and the odd serene turtle. For those less water-inclined, the glass bottom boat is another great way to observe the world's biggest clams and diverse corals. Big Cat Green island full day reef cruises leave from Reef Fleet terminal each morning. www.greenisland.com.au.
For more info:
…on Cairns & the Great Barrier Reef
…on Cairns' best kept foodie secrets
…on accommodation: