Surrounded by wetlands at the mouth of the Norman River in northern Qld, Karumba is a small town in the Gulf of Carpentaria where fishing is a way of life.
"Worth driving five hours out of your way (or riding your pushie for a week) for fishing, fresh prawns, grabbing a beer and watching the sunset, or just being awestruck at the uncertain distinction between land and sea as the mudflats stretch for kilometres." – MyPOWER Team
Originally a telegraph station until the 1930s when it became a stopover for flying boats on their way to London, Karumba became even more popular in the '60s when vast quantities of prawns and barramundi were discovered in the river. It's not uncommon to see a cattle herd on the road and cranes and other waterbirds feeding beside it, due to the 30km of surrounding wetlands. Being the only beach on the Gulf accessible by sealed road, Karumba is popular for fishermen hoping to land "the big one".
During September and October Karumba is visited in the early hours by the unbelievable cloud phenomenon of Morning Glory; this tubular cloud rolls out from the horizon, across the ocean and chases the night away, bringing dawn with it.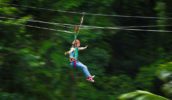 Where? // 750kms (9hrs) due west of Cairns.
Did you know? // Just visible from Karumba is tiny Sweers Island, thought to be partially responsible for the naming of Australia as a single continent. In 1802 it was uncertain whether ours was one giant landmass or two smaller ones (proposed names: New Holland and New South Wales). Explorer Matthew Flinders learned the truth when he viewed the continent from Sweers, and subsequently pushed for the single name "Australia".
Return to: the 100 Best Towns in Australia