Picture this: Indiana Jones is cutting his way through virgin jungle, when he stumbles across Robinson Crusoe, Maggie Tabberer, Deborah Hutton and a few famous architects, artists and rockstars, all sipping cocktails on an ancient precipice. Deciding to pool their resources and build a spectacular rainforest escape, they link arms and go off to create Altitude One40.
Of course, it didn't quite happen that way. Altitude One40 was lovingly created by hosts Shane and Craig Hunter, but it's no less extraordinary for all that. Having visited some incredible resorts around the world, this is probably the most surprising five star accommodation I've ever stayed in. It's what I'd call "Jurassic serenity", perched in rainforest canopy that must be millions of years old. The setting is breathtaking, the view second to none, and the facilities and service I can only compare to the most spectacular place I've ever stayed at: a grand beach villa at the US$2200 a night Huvafen Fushi in the Maldives.
It's a nothing-left-to-chance heaven, perched like an Incan creation on the side of a majestic mountainside.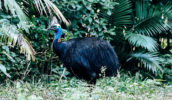 From the gorgeous coffee capsules we consumed every morning to the Sonos all-area music selection, AltitudeOne40 oozes luxury and extravagance, with perfect afternoon breezes and sounds of silence that only a virgin rainforest can provide. Decide daily whether to encapsulate yourself within this architectural masterpiece and enjoy 100 channels and a great red, or open the concertina doors and turn this treetop haven into something more bohemian, with huge, colourful butterflies and all manner of rainforest fauna. Plus the best swimming pool on the planet. It's a nothing-left-to-chance heaven, perched like an Incan creation on the side of a majestic mountainside.
As an ex-architectural builder I can tell you, AltitudeOne40 is world class. Everything is in order and carefully thought through – minimalist, yet with sublime depth. Nothing is ever too much trouble, either: tropical fruits I've never even heard of were delivered to our outdoor terrace, while a friendly chap arrived on sunset, smiling broadly as he unloaded foot-long platters of fresh lobster, Moreton Bay bugs and giant prawns for our afternoon BBQ with some local friends. Shane organised that between her never-ending maintenance of this impeccable property – the ultimate host for what I truly believe is one of the most spectacular private accommodation destinations in the world. – Peter Hooymans, Director Melbourne Real Estate
The Details
From $660 per night per couple. Mission Beach, North Qld, overlooking Dunk, Bedarra & Hinchinbrook Islands. (07) 4068 7777, www.AltitudeOne40.com.au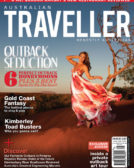 Enjoy this article?
You can find it in Issue 33 along with
loads of other great stories and tips.