Port Douglas is the premier and original tropical Queensland town for travel.
The central area was reasonably stylish, with an open-air bar and an open-sided restaurant serving excellent food. The central pool – one of five on the property – was a typical resort facility with plenty of greenery and a swim-up bar for cocktails, and the gardens were lush and well maintained.

But beyond the resort's hub, most of the facilities screamed 1980s tourism boom, with little more than a paintbrush and routine maintenance having impacted since. Some of the villas did look newer, but ours certainly wasn't one of them.

Our two-storey self-contained villa featured daggy carpet, a grotty kitchen, a tired bathroom and a laundry with a noisy old washer and dryer that competed with the clunkety-clunk of the ceiling fans. It was only a few steps to the nearest pool or a ten-minute walk to the beach, but we needed only to step outside to get wet, with sprinklers saturating both the front and back doors at certain times of the day. We had some value out of the floodlit tennis courts, but the pitch-and-putt golf course was like something out of a war zone, with potholes and bumps all over the place.

To be fair, this resort wasn't overly expensive at about $250 a night for a self-contained villa. But it wasn't a good choice. A bit of research later revealed that Port Douglas is a hazardous mix of old and new accommodation, with plenty of traps for anyone trying to choose from a distance.

At one end of the scale are luxury holiday homes renting for up to $1000 a night, and at the other, basic holiday units. In between are hotels, resorts, apartments and bed and breakfasts, some of which trace their history to the early days of Port Douglas tourism while others have only been around a few years. Aside from getting a personal recommendation or using a good booking agent, it's extremely difficult to figure out what's what.

Thankfully, there's plenty to do in Port Douglas and the surrounding area, so we had no need to spend a lot of time at the resort. The town of Port Douglas is a delightful jumble of cafes, tour operators, clothing stores and artists' retail outlets. It's easy to spend a few afternoons just strolling up and down, stopping for drinks and ice creams.

Port Douglas itself has no real beach to speak of, but there are great swimming beaches just minutes away, and you can easily find a quiet spot to read a book or snooze in the sun. The beaches also lend themselves to cycling and you can hire bikes from many of the resorts.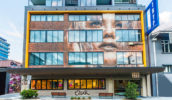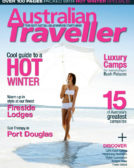 Enjoy this article?
You can find it in Issue 16 along with
loads of other great stories and tips.