Day One of the Matra Reef and Rainforest Carnival, Four Mile Beach and the Daintree River Cruises
Street Parade, Blessing of the Boats, Beach Day and Daintree River Cruise
Day One
Winter Escape
Dragging myself out of bed in Sydney to a rainy, cold, 5am start, the prospect of heading north was welcome. The rains are such a godsend for NSW, but they certainly don't compare with the warm and laidback life here in Port Douglas.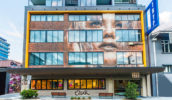 For a town with a permanent population of just 5000, the street parade to mark the opening of the festival was a success. Anywhere between 8000 (my estimation) and 12,000 (the regional papers') lined the streets to shout encouragement to local floats.
Colourful, loud and highly energetic the enthusiastic responses from the crowd show that Port is now open for business, and the locals are relieved. This town needs its tourists and the opening of the season is like the end of hibernation for business in the region. The local tourism float receives the loudest cheers from the revellers around me and shows Port is keen to please travellers.
My pick of the floats has to be the tree loppers – about 12 well built local lads stripped down to shorts letting their chainsaws do the talking. A big hit with the local lasses.
In the Beginning
I started Saturday, the next day, in an unusually pious way – on a boat to get blessed. Local priest Eric Pitt blesses any boat requiring or requesting holy protection by muttering a few unheard exaltations and a spray of water.
On board a very luxurious cruiser – the Enterprise – we cruised up to Father Eric standing like a beacon of protection on the jetty where he obliged with a light shower and hand gestures.
Blessed, protected and on dry land I ventured back to Port's most photographed and celebrated asset: Four Mile Beach. While Cairns is the gateway to the reef and the rainforest, it's Port's beautiful beach and highly sensitive development that make it the emerald in this green wonderland.
The 'Beach Day' was starting to hit its straps and I arrived as locals were enjoying their first Four X. (Couple points of interest: yes, they do still drink their Four X up here; and yes, it was 10:30am.)
Beach Celebrity Spotting
On the sand, Australian Cricket God Merv Hughes was testing a few of the local boys in a beach cricket competition. He certainly ain't what he used to be but he still has that competitive spirit, berating teammates who didn't risk all in the field.
And to show the old guy has mellowed, Merv's small children were included in the teams. Local teenagers trying to get a celebrity photo had to make do with this very-happy-to-oblige teammate.
Back up on the beach among a small number of stalls the military band was kicking off. Watching a bunch of fatigue-wearing musicians belt out some excellent tunes to an enthusiastic crowd is a great – if a little disconcerting – way to enjoy the beach day stalls. (Would they really scare away the invading hordes with a few show tunes?)
Among the stalls I tried some local wines – no, not grape wine in the tropics but the fruit wines. Interesting . . . Local producer Tony Woodall from Shannonvale winery tells me he sells every drop every year and doesn't want to make any more – it's too much work. Now that's laidback. The wine itself is tasty and interesting; not lolly water but serious stuff. Not sure if I'm ready to let go of my grapes just yet, though.
In the stalls I make my second celebrity spotting of the day: Australian photographer Steve Parrish is holding a carpet python surrounded by a selection of his thousands of natural history and photography books.
Tropical North Queensland is renowned for having two World Heritage-listed sites side by side – the reef and the rainforest. The Daintree River isn't part of the Heritage-listing but has enough jungle to give me the heeby jeebies.
Fat Albert of the Daintree
And that's before I spot Fat Albert. In what is just one more example of Queensland's sense of humour the largest croc in this stretch of the picturesque river is named after a kid's cartoon. And he is BIG . . . 5m-plus and more than 600kg, Fat Albert is big enough to pull a Brahman cow into the water snout first.
David White runs one of many Daintree River cruises. His big point of difference is that his boat is completely solar powered by the panels on the roof, so the craft produces very little noise, no pollution and is small so the limited few on board get up close and personal.
The other difference is simple genius: he has a camera and TV on board which he uses to point out what different birds, snakes and other creepy crawlies look like so you can actually spot them in the mud just two metres away. Although you need no such assistance when spotting Fat Albert.
The one hour and 15 minute journey is not just picturesque but educational. David points out all the various weird and wonderful wildlife — tree snakes, the very uncamouflaged Azure Kingfisher, and several other large crocodiles with interesting names: Scarface (no prizes for guessing); Scuter (a scute is the small bone that raises the hide and gives them their ridges); and Elizabeth. We also spy several of Albert's offspring; at just 20cm, they have a one in 1000 chance of surviving and therefore don't get a name . . . yet.
And the scenery is breathtaking. Overlooking the Daintree River from a distance is Thornton's Peak. Only 14 people a month are allowed up the peak that's usally shrouded in clouds. The peak is home to a lizard that's found nowhere else, a marsupial mouse that's found nowhere else, and a rhodendrum that's found nowhere else. That's one very special mountain.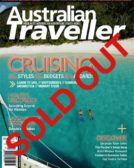 Enjoy this article?
You can find it in Issue 15 along with
loads of other great stories and tips.