If everyone wants to holiday on a beautiful, quiet tropical beach and return feeling not just good but great, nothing in the world beats Camp Chivaree in the very, very far north of Queensland. It's an incredibly special place and very special holiday work: saving the sea turtles threatened with extinction in the next 25 years. They're being slaughtered by ghost nets in the water and feral pigs on land, and volunteers get to help save them in this idyllic setting.
"A GOOD CAUSE AND A GREAT EXPERIENCE YOU'LL NEVER FORGET." – Michelle Hespe
Working with the Aboriginal community members of Mapoon, local rangers and scientists, you can end up carrying small bundles of wriggling, hard-topped joy to the sea in the hope that your turtle will be that one-in-a-thousand that makes it through the next 30 years to breed. You can also help install feral pig exclusion devices over turtles' nests and, when you get a moment, remove the deadly ghost nets that are washed up on shore before the tides take them out to sea to kill again.
The guest book is chock-full of emotion about just how uplifting and rewarding Camp Chivaree can be. Volunteers arrive in June and the last camp is held in October. Housing consists of permanent tents for two and all necessary items are included – you just need to get there.
WHERE // 200km south of the tip of Australia on the gulf side, 80km north of Weipa at the Aboriginal community of Mapoon. Visit www.capeyorkturtlerescue.com for more info.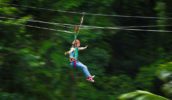 DID YOU KNOW? // Australia is breeding home to six of the seven sea turtle species in the world, and the Flatback Turtle is found only in Australia. Sea turtles predate the dinosaurs; fossil records show they've been around for more than 120 million years – and could be wiped out before humans can say boo.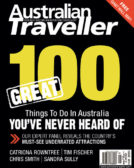 Enjoy this article?
You can find it in Issue 14 along with
loads of other great stories and tips.