Australian Traveller reviews three perfect winter retreats: the first is The Escarpment in Tamborine Mountain National Park, Qld.
Winter Lodges: Mountain Retreat

Queensland's Tamborine National Park is turning 100. Embracing the winter chill, Danielle Lancaster celebrates the milestone with a saunter through this rainforest wonderland.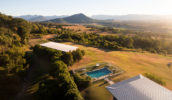 Outside our split-level villa suite at The Escarpment, water dripped from the fronds of a huge tree fern and wafts of silently moving clouds disappeared into the dense rainforest backdrop. I could have been on top of the world.
In fact, I was only 580m above sea level on Tamborine Mountain, the northernmost point of the great Mount Warning shield volcano, 25km inland from Surfers Paradise – truly the green beyond the gold. When Warning ceased spewing lava 20 million years ago, after reaching a height of more than 2000m, thick layers of rich volcanic earth coated the landscape for 100km around. One of the largest erosion calderas in the world, and the biggest in the southern hemisphere, was formed.
The mountain is actually a plateau, covered by the Tamborine National Park, an extraordinary natural environment. It's made up of 13 sections, including Queensland's first national park (the third in the world) declared a century ago in 1908 – which is now known as the Witches Falls section. The park protects ancient palm-like cycads, rare Albert's lyrebirds, Richmond birdwing butterflies, glowworms, glowing fungi and countless other species of amazing flora and fauna. Various walks weave throughout, some steep, directing you through thickets of towering piccabeen palms to waterfalls cascading over basalt rock faces speckled and glistening with ferns, stags and moss.
I love the smell of a rainforest. Actually, any forest. The rich scents of cedar were the first that aroused our senses on arrival to our suite. We'd stayed here before; this return was to celebrate our discovery of the mountain. Now under new ownership, a new name and revamped, it had also stepped up a level in service. Champagne and fruity nibbles were delivered to our room in time for us to enjoy before I headed off for my pre-booked spa treatment. Cathy, another new addition, has the hands of an angel – her massage is simply bliss. The only sounds apart from the music were my sighs as she worked out my "stress-points" and delivered me to another realm.
Tamborine has become to Brisbane and the Gold Coast what the Blue Mountains are to Sydney. It's home to artists and craftspeople exhibiting wares throughout the village that stretches the full length of the plateau. A quick browse through the anachronistic Gallery Walk on Long Road, jammed with cafés and boutique shops, can sometimes reward the especially keen bargain hunter. And a thriving boutique wine industry, bursting forth from fertile volcanic soils, has added yet another dimension – but it's the forest you're here for.
There's an abundance of accommodation choices including quaint B&Bs, self-contained cottages, lodges, villas, hotels, motels and resorts dotted across the mountain. Some are tucked into the forest while others offer panoramic views of the glitzy Gold Coast and its sweeping beaches.
As the chill in the air dropped a degree or two, we snuggled on the lounge and toasted with a drop of fine mountain wine the foresight of those back in 1908 who sought to protect the forest from settlers keen to use the massive timbers for building materials. Staring into the embers of our crackling stack of burning seasoned timber, now disintegrating into a pile of searing coals, I closed my eyes, relishing the winter warmth.
Too good to be true? We thought so too. Now Tamborine Mountain is home and the rainforest our backyard.
DETAILS // The Escarpment
Where // 123 Alpine Terrace, Mount Tamborine, Qld
Phone // (07) 5545 3300
Website // www.escarpment.com.au
Email // escarpment@bigpond.com
Rates // From $450 for two nights midweek, from $590 for two nights weekend in split-level villa suite.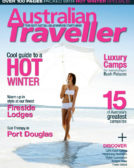 Enjoy this article?
You can find it in Issue 16 along with
loads of other great stories and tips.