Naracoorte in South Australia is a treasure chest of prehistoric megafauna.
Did you know Australia once had its own lions? The 120kg Thylacoleo carnifex roamed our country from around 25 million years ago, then became extinct – along with (ahem) the lion's share of our Megafauna – some 50,000 years ago. Part of the key to understanding what went on during that era of mass extinction lies in fossil graves such as those at Naracoorte Caves NP in southeast SA. Of the dozens of caves in the area, four main ones are open to visitors: Alexandra, Blanche, Bat and Victoria Fossil Caves. Alexandra is known for its limestone formations, Blanche for a calcified Aboriginal body discovered there, Bat Cave as a crucial breeding site for bent-wing bats, and finally Victoria Fossil cave: the absolute mother lode.
It's acted as the classic pitfall trap for more than 500,000 years, during which time literally hundreds of animals that roamed the area during the Pleistocene Epoch (spanning from 10,000 to 1.8 million years ago) have dropped in, perished and been preserved. Giant wombats, carnivorous kangaroos, the 2.5-tonne Diprotodon australis – the largest marsupial ever to have lived – all these and more (93 species in all) have found their way to what many describe as the "Rosetta Stone" of Australian palaeontology. So, to see the intense study of ancient pre-history in action, SA's only World Heritage site is a must-visit for the curious. Besides, this could be the only place in Australia where you can take your family and legitimately say: "Quick, kids – to the Bat Cave!"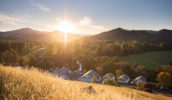 WHERE // Naracoorte is 330km southeast of Adelaide near the Victorian border. The National Park lies on the eastern outskirts of Naracoorte, 11km down Caves Rd.
DID YOU KNOW? // Blanche Cave shows some small signs of damage and wear, since it was commonly used for parties in around the 1860s. It was finally protected and preserved from the late 1880s.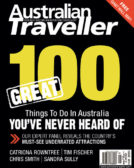 Enjoy this article?
You can find it in Issue 14 along with
loads of other great stories and tips.