Quaint gardens, open fireplaces and old-world charm – the newly opened Coachman's Cottage could be the Betty White of hotel hideaways.
Nestled in the Adelaide Hills overlooking Piccadilly Valley, it is now available to guests as part of the historic Mount Lofty House estate – established in the 1850s by Adelaide politician and lawyer, Arthur Hardy.
The cottage once housed the property's coach master, who sent carriages to the main house after dinner to chauffeur guests home.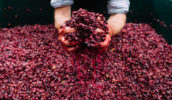 But like Ms White herself, this charming treasure has an appeal that transcends generations, having undergone a clever reinvention ensuring it's as fresh and modern as ever.
Within this light-filled three-bedroom abode is a slick new kitchen, iPod docking station and DVD collection… and a dedicated butler throughout the day.
Guess where we want to cosy up this winter? mtloftyhouse.com.au