A guide to the best on offer in Adelaide for the business traveller
Business Traveller Adelaide
Savvy business traveller Chris Pritchard has been covering the pitfalls of corporate and executive travel for more than 20 years. As our resident Business Travel Guru, he imparts his expertise so that your next journey is as easy as a stroll down Wall Street.
Business travel to Australia's fifth-largest city and newest airport is growing. The SA capital's investment in reinventing itself has paid off. A former heavy industrial role rusted away, speeding a slide into economic doldrums. Revival focused on art, culture, food, wine, education and tourism. The Adelaide Festival and Womadelaide are increasingly celebrated. Event-driven calendars bulge with cultural and sporting highlights. This city of 1.1 million people and three universities markets educational excellence, with more fee-paying foreign students per head of population than any other Australian city – and reportedly more restaurants than Rome. Business visitors are in arts, culture, medicine, science or educational niches, as well as (increasingly) IT development, graphic design and architecture.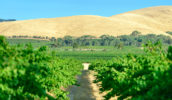 Getting around
First pleasant discovery: an uncluttered airport behind walls of glass, replacing a dowdy facility and built for the future. Food outlets (with pubs run by local brewer Coopers) exceed airport standards. Laptop-loving wireless hotspots cover all gates and lounges. Skylink shuttle ($7.50) drops at hotels; clean and plentiful, cabs are handier (under $20; from the CBD, most meetings are reached for $8 to $20). Credit surveyor-general Col. William Light with planning this purpose-built grid of broad, tree-lined boulevards, easily navigated from the main drag, King William Street.
skylink: (08) 8332 0528 taxi: 13 10 08, 13 22 11
Staying there
Chain properties – including Hilton, Hyatt, Medina and Radisson – are central and often below $200 a night (even less with corporate rates), but Adelaide has numerous smaller business-oriented options. For my money, nothing beats the stylish Richmond (rooms from $145 or negotiated corporate deals) on arterial Rundle Mall. Rooms have all business amenities including safes; free-to-use laptops grace the breakfast room while a balcony bar overlooks urban bustle. It's location, location, location at the Mercure Grosvenor (from $99) on North Terrace – opposite the casino and Hyatt and near prime business addresses. Nearby, the Oaks Embassy (from $123) is an in-vogue apartment-style alternative. Just off Hindley Street's nightlife hub, the immaculate Adelaide Paringa (from $85) woos cost-cutting corporates.
Hotel Richmond: (08) 8215 4444, www.hotelrichmond.com.au
Medina Grand Treasury (08) 8112 0000 www.medina.com.au
Mercure Grosvenor: (08) 8407 8888, www.accorhotels.com.au
Oaks Embassy: (08) 8124 9900, www.minorhotels.com/en/oaks/oaks-embassy
Adelaide Paringa: (08) 8231 1000, www.adelaideparinga.com.au
Entertain them
To impress, choose the Hilton's Grange where award-winning Cheong Liew creates modern Australian fare with a tip of the hat to "east meets west" fusion and his Malaysian Chinese heritage. Well-spaced tables for confidential exchanges are similarly a feature of Red Ochre – overlooking the River Torrens, a five-minute cab ride from the CBD – where Australian bush tucker enhances beef, lamb and fish dishes (think wattle seeds and bush tomato); kangaroo fillet with quandong glaze is succulently memorable. Subdued Matsuri, in downtown's Gouger Street food precinct, excels at Japanese cuisine. Altogether different is family-run Amalfi, famed for Adelaide's best pizzas (along with pasta and seafood). Loud and boisterous, it's better for celebrating a clinched deal rather than negotiating sensitive issues. In the same mould, Oostende combines Belgian-style mussels, Belgian beers and fine South Australian wines to lure loyal business custom.
Grange: (08) 8217 2000, www.hilton.com
Red Ochre: (08) 8211 8555, www.redochre.com.au
Matsuri: (08) 8231 3494, Matsuri-Sa
Amalfi: (08) 8223 1948
Oostende: (08) 8359 3400, www.oostende.com.au
Entertain you
Tagging a weekend on to a business trip is commonplace. Options include Kangaroo Island with its beach-basking seals, several wine regions (Barossa or Clare Valleys), drives into the Flinders Ranges or trips to pretty Yorke Peninsula. But, confined to the city, you needn't miss out. Adelaide Hills vineyards can be sampled in a day (or less). In "the Hills", a much-visited aromatic herb farm produces ingredients for SA's Jurlique beauty products empire. Even easier, take a tram (30min) to beachside Glenelg's iconic pier and many restaurants. City ambling can encompass produce-packed Central Market, alongside the Hilton, King William Street and pedestrianised Rundle Mall with historic arcades and calorific Haigh's Chocolates, an Adelaide institution. Rundle Mall becomes Rundle Street restaurant zone at its eastern end and Hindley Street nightlife quarter at the other. North Terrace's ornate stone buildings include the Art Gallery of SA, the SA Museum, the University of Adelaide, imposing churches – and more. Continue through the Botanic Gardens (with its International Rose Garden) to reach the National Wine Centre, which showcases the history and importance of viticulture and houses a well-stocked retail outlet that time-poor visitors substitute for cellar-door visits.
Jurlique: (08) 8391 7400, www.jurlique.com
Haigh's Chocolates: (08) 8231 2844, www.haighschocolates.com.au
Art Gallery of SA: (08) 8207 7000, www.artgallery.sa.gov.au
Sa Museum: (08) 8207 7500, www.samuseum.sa.gov.au
National Wine Centre: (08) 8303 3355, www.wineaustralia.com.au
After Hours
A short stroll from downtown hotels lie Rundle Street's abundant eateries and pubs, ideal for impulse dining and drinking. The Austral, Exeter, and Elephant have live music and serve above-average pub grub. The Austral is trendiest, the Exeter is a student favourite and the Elephant sports faux-English décor. All are casual, with women travellers enjoying the scene as much as males. Hippest spot in Adelaide? First bar on the balcony of the Richmond; though quiet on other nights, it's packed on a Friday, including many groups of women from nearby offices. Hindley Street pubs are rougher and the crowd well oiled late in the evening; by day its interesting espresso outlets, boutiques and galleries hold more charm. Check the Adelaide Festival Centre for diverse all-year menus of classical music, dance, drama and exhibitions. Jazz? The Governor Hindmarsh anchors a vibrant scene where solo women visitors seem relaxed – but groups of two or more are more common. Skycity, in the former Adelaide Railway Station, offers standard gambling options – plus restaurants and bars – with a classier ambience than the casino norm.
austral: (08) 8223 4660 exeter: (08) 8223 2623 elephant: (08) 8227 1633 first (08) 8215 4421 adelaide festival centre: (08) 8216 8600, www.afct.org.au governor hindmarsh: (08) 8340 0744, www.thegov.com.au skycity: (08) 8212 2811, www.skycityadelaide.com.au
Insider tips
1. Turn right on Gouger Street, just behind Central Market, to reach a low-profile Chinatown with cheap-and-cheerful food courts. (See a reader review here)
2. Adelaide women insist Hindley Street, safe for lone, on-foot females by day, isn't worth chancing at night due to its rough-hewn image.
3. Reaching the airport, 6km from town, is a breeze by cab – but, aside from rush hours, allow an extra 15min mid-afternoon when schools disgorge kids and suburban traffic is heavy.