Once known as the city of churches, Adelaide is the capital and most populous city of South Australia. The only free-settled city on the continent, Adelaide's founders carefully planned the wide boulevards, large public squares and extensive parklands that visitors and residents now enjoy.
More then 1.3 million people call the city home, with the population swelling during the many festivals and sporting events on the Adelaide calendar. Foodies and wine lovers flock to this gateway to the Barossa, Lake Eyre and Flinders Ranges but don't be misled; there's a burgeoning defence and manufacturing presence nestled between the Victorian ironstone buildings. Summers are renowned for extremely dry 40-degree days and winters can produce subzero days when the winds kick in from the Great Southern Ocean.
Transport: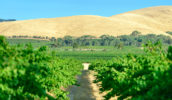 Adelaide Airport is located only 6km (15min) west of the CBD. Taxis (around $20 to hotels, 13 22 11) and Skylink Airport Shuttle ($8.50 single, $14 return, 1300 383 783) are all available immediately outside. Key car rental companies all have desks on the lower level of the terminal. A public bus service runs regularly at a cost of $4.40 to the city.