Australian Trvaeller Magazines rate their favourites – Adelaide Airport
My favourite . . . airport
AT Reader Hannah Hempenstall studies remedial massage in Adelaide and hopes one day to run her own luxury day spa.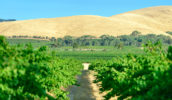 Hannah Recommends…..
ADELAIDE AIRPORT
1 James Schofield Drive, Adelaide Airport, SA
PHONE: (08) 8308 9211 WEBSITE: www.aal.com.au
I know airports aren't usually something to write home about but the new international terminal in Adelaide is absolutely fantastic. I recently flew to Sydney from Adelaide (all flights including domestic now depart and arrive from here, even though locals call it the international terminal) and was hugely impressed with the state-of-the-art design. This ultra-modern terminal has unique splashes of retro that are reminiscent of old aircraft design. There are huge vents in the walls that look just like the air vents you get on planes. It's really quirky. And apparently cost $260million!
I loved the stylish bar – you can watch the planes coming and going over a glass of wine (premium South Australian of course) or a locally brewed Coopers Pale. I even bought a Coopers cap from the souvenir shop. (For my dad. Honest.)
There's only one tiny duty free shop, which is disappointing, but Purely Merino, which sells merino wool garments like slippers, jumpers and even overcoats, was a welcome change from the usual beach outlets. However, shopping woes aside I spent my downtime in Beetroot eating the most amazing gourmet burger that would put a New York deli to shame, let alone an airport eatery. But then Adelaide is all about good food and wine.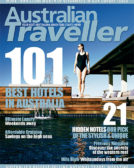 Enjoy this article?
You can find it in Issue 9 along with
loads of other great stories and tips.