Carrick Hill,  in the Adelaide Foothills, is one of Australia's few period homes to retain its grounds and contents fully intact. By Dennis Coleman
Nestled within Adelaide's verdant hillsides, all within 20 minutes of the CBD, are various 19th Century stately homes. Mt Lofty House, Beechwood, Springfield House, Beaumont House… all have their own tales to tell and – in varying degrees – are open to the public. Yet there is one which stands out as a living monument to the fabric of Adelaide's cultural history. Carrick Hill, the enigmatic and gracious home of Sir Edward and Lady Hayward.
Driving for just 15 minutes along Fullarton Rd through the leafy suburbs of Unley and Mitcham will bring you to Springfield, Adelaide's dress circle. Grand mansions abound, tucked behind old-fashioned hedges and high stone walls with sweeping driveways. Overlooking all this on 40 hectares of land is Carrick Hill, a part-Jacobean style Manor House transported from England and filled with antiques, significant works of art and a treasure trove of memories.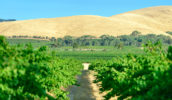 But first to the previous owners, who built this dream house in the late 1930s before bequeathing it to the people of South Australia in 1986. Edward was from the Hayward family, which owned the much-loved John Martin's (Johnnies) Department Store in Adelaide for over a century. It was he who conceived the John Martin's Christmas Pageant in 1933, still attracting ecstatic crowds of 400,000 each November. Ursula hailed from the Barr-Smith family, wealthy pastoralists and benefactors of many of Adelaide's cultural institutions. The Barr-Smiths were linked with many of the other dynastic families of the time, with Alexander Downer being a great nephew of Ursula.
On honeymoon in England in 1935, they fell in love with Beaudesert, a Jacobean Mansion under demolition. Over the next few years the magnificent staircase and landings, window and door fittings and oak panelling were transported to Adelaide, with completion on the eve of WWII. Under the supervision of Adelaide architect James Irwin, local Basket Range stone was used to build this manor style hall.
The staircase, which stands supreme as the centrepiece of the central hall, has a history in itself. The original Jacobean staircase at Beaudesert was replaced by the First Marquess of Anglesey (second in command to Wellington) after he was shot in the leg at Waterloo and needed a staircase with shallow rises and broad treads for ascending with his wooden leg. This staircase was then largely destroyed in a house fire in 1909 and, after considerable research, a new Jacobean-style staircase was constructed. Anglesey's leg, buried with full military honours after the famous English victory at Waterloo, together with other glorious chapters of English history from Jacobean to Edwardian times, are indeed bound up in this impressive staircase, now recreated at Carrick Hill among the century-old oak panelling and fittings.
But the history only begins there, for this house, through the '40s to the late '70s was one of the major cultural hubs of Adelaide and may have been the cradle from which Australia's first major performing arts festival in Adelaide was nurtured. Sir Robert Helpmann, Barry Humphries and various other Australian performers rubbed shoulders with the likes of Vivienne Leigh, Katherine Hepburn and Dame Judith Anderson over cocktails and at dinner parties. Anthony Quayle and Sir Lawrence Olivier also came to dinner, as did Claudio Arrau, acclaimed concert pianist. He certainly played for his supper, hammering out tunes on the grand piano until the early hours of the morning with Sir Edward on the drums, along with other stringed instrumentalists.
It wasn't just the stars of screen and stage who came to dinner. Poets and writers of the ilk of Patrick White and Geoffrey Dutton dropped by. Artists Hans Heyson, Ivor Hele and Sir William Dobell visited, with Sir Edward purchasing Dobell's controversial 1943 Archibald Prize-winning Joshua Smith. The Haywards were art collectors extraordinaire. Renowned Adelaide artist Jeffrey Smart relates how in the '40s Carrick Hill was one of the few places in Australia where art by French Masters of the calibre of Gauguin, Renoir and Vuillard could be found. Works by British artists Paul Nash, Stanley Spencer and Augustus John, to name but a few, were also acquired and still constitute part of the collection – along with a liberal sprinkling of works by Sir Arthur Streeton, Sir Russell Drysdale, David Driden, Heysen, Dobell and many other Australian greats. Sculptors Jacob Epstein and John Dowie were also favoured artists, with a significant collection dotted around the many ornate rooms.
"These people were more British than the British. It was the last hoorah of genteel Edwardian country life."
Many of the overseas performers arrived by ship at Outer Harbour in the pre-jumbo jet days and were sometimes met there by a uniformed chauffeur, who transported them to Carrick Hill where they wined, dined and often stayed. It wasn't just the rich and famous who were feted like this, however. Jean Crawford, who was recently at Ursula's 100th birthday (she actually died in 1970), reminisces about how as a young girl she'd often come down from the Flinders Ranges in her holidays to stay at Carrick Hill with her aunt, Nell Farrell, housekeeper and confidante to Lady Hayward. She'd arrive at Adelaide Railway Station with an identifying scrap of paper pinned to her clothes, also to be met by the Hayward's Rolls Royce-driving chauffeur wearing a navy suit, white cap and white gloves.
She relates how dinner parties at the Haywards were lively, beautifully presented but not ostentatious. In an age when "electric service" was beginning to replace "hired help", the staff of eight or nine was considerable, with George Sharp dressed immaculately as butler and the dining room and kitchen staff in uniform. On many occasions, though, when guests weren't staying, the Haywards would invite the staff to dinner, with Sir Edward carving the roast.
Director Richard Heathcote and "Gastronomer in Residence" Allison Reynolds have extensively interviewed former staff such as George Sharp, butcher delivery boy, Russell Fleet, Jean Crawford, John Dowie and other family members such as Lady Downer and Christopher Legoe QC. Through this, a more complete picture of the parties and laughter, the homegrown flowers that filled the rooms with heady scent and the foods and cocktails they drank has been revealed. The kitchen has been retrofitted to what it would have been like back in the '50s; cookbooks, some presented by prominent food and wine writers with handwritten notes, were trotted out in preparation for food tastings and cocktail parties over several months from August 2007.
A reconstruction of many of the original garden features laid out by Ursula Hayward is also well advanced. Formal rose gardens, pathways meandering through cypress hedges, cut flower beds and bronze statuary are being meticulously and lovingly restored. As Allison Reynolds says: "These people were more British than the British. It was the last hoorah of genteel Edwardian country life." Our own Brideshead Re-visited in the foothills of Adelaide.
 For a dose of pure escapism into one of Australia's grandest stately homes, intact with furnishings, artworks and lived-in persona, Carrick Hill is hard to beat.

Where // 20mins drive south of the Adelaide CBD, 46 Carrick Hill Drive, Springfield. Open to the public Wed-Sun and public holidays 10am-4:30pm. Closed Christmas Day, Good Friday and each July for conservation and restoration work. Guided tours 11.30am and 2.30pm.
Phone // (08) 8379 3886
Website // www.carrickhill.sa.gov.au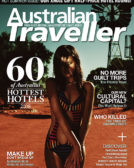 Enjoy this article?
You can find it in Issue 18 along with
loads of other great stories and tips.