Adelaide's youngest fashion prodigy has his couture designs on runways in Paris and celebrities across the globe, yet he still remains as humble as ever.
You recently showed in Paris for the first time, how did that feel?
It still doesn't feel real. It's something I've been dreaming of my whole life so to have it happen is surreal. It was the most challenging yet wonderful experience and I'm very grateful to have been given the opportunity.
How would you describe your latest collection, Gilded Wings?
It's very whimsical. There is a lot of art nouveau inspiration and artwork inspired directly from dragonfly wings. I was really fascinated by the way the light hit them and their patterns so I thought it would be an interesting challenge to translate that into a garment.
Who are some of your biggest clients?
We created a custom corset for Kim Kardashian West for a Vogue Australia shoot earlier this year, so the team had a bit of fun and excitement working on that. We've been lucky enough to dress Megan Gale, Delta Goodrem and Carrie Bickmore. Ada Nicodemou has supported us from the beginning and we always love working with her. Sonam Kapoor and Li Bingbing are among our lovely international clients.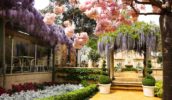 You've made the decision to keep your atelier in Adelaide, is identifying with the city a big part of your label?
I've always felt so proud of that sense of community spirit. I don't think the label would have been able to grow the way it has if we weren't in Adelaide. Adelaide is my home and my base. We have so much support from the local community and my family and friends, and I'm so glad I've been able to share this journey with them.
Did it take a while for a boy from Adelaide to be taken seriously in the fashion world?
Yes, and no. In the early years it was harder mainly because of my age, but I think as time has moved on the label has grown, I've grown and the industry has evolved a lot.
How much of an impression do you think Australian fashion has on the world stage?
I think more and more, because the world is rapidly changing and the power of social media has really given a voice to Australian fashion. I think many brands here have such a unique look and take on fashion and that's received very well internationally.
You started your label almost 10 years ago at the age of 17, what have you learnt about yourself and the industry in that time?
I think as a designer, although my style may have evolved slightly, I still feel very much the same person I was at 17. I started Paolo Sebastian because I really, really love creating clothing and see it as a wearable art form. I always wanted to create beautiful clothing that could take people out of reality and inspire them to dream. That has always been my driving force and I think I've really learnt to trust myself.
What's next for Paolo Sebastian?
We're always working on growing and moving forward with the company. You can never really plan too far ahead; I just try to take each day as it comes. I'm always working on the next collection and we're very excited for the Adelaide Fashion Festival after our closing show last year.
MORE Q&A WITH INSPIRATIONAL AUSSIES
→ Behind the scenes with fashion designers Bec & Bridge
→ The doctor is in: Q&A with Dr Chris Brown
→ Q&A: Amy Hawkes (of The Horse)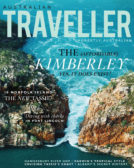 Enjoy this article?
You can find it in Issue 71 along with
loads of other great stories and tips.