A restaurant set in a sporting stadium named after a wine: Max Anderson wonders if Adelaide's latest venture is well paired
My first degustation was in 2004, at Magill Estate, home of Penfold's Grange.
I have good reason to remember it – the view of Adelaide at night, the precious glass of Grange Hermitage, the attractive PR manager from the South Australian Tourism Commission picking up the eye-popping bill… Knowing I was onto a good thing, I married the PR.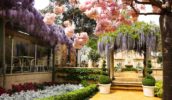 It's with surprising circularity that in 2014 we find ourselves in the Hill of Grace Restaurant, opened by that other doyen of South Australian wine, Henschke. A lot has changed in 10 years, not least how Adelaide regards itself: forget wistful far-off views, this signature restaurant looks directly into the city's new heart – a reconfigured Adelaide Oval capable of holding 50,000 people in the rejuvenated river precinct.
We're seated three levels up and, as floodlights play on the empty turf of Bradman's home ground, the implication is that Henschke is just as hallowed. There's certainly a hushed atmosphere on our Thursday night visit, partly owing to the low-lit tones and thick carpets – and partly because there are fewer than two dozen diners in the 110-seat restaurant.
Waiter Jonathan Brook, however, is expansive and knowledgeable, and when he brings our amuse-bouche – a Coffin Bay oyster in lemon foam with finger lime – and pours Henschke's Johanne Ida Selma Blanc de Noir, there's a sense of occasion. "This wine is actually rarer than Hill of Grace," he says. "Stephen and Prue had a batch made especially for us." The Henschke family never feels far from the genial, quite informal proceedings.
Chef Dennis Leslie, who studied under 'father of fusion' Cheong Liew, creates dishes inspired by France, the Philippines and outback Australia. But the ingredients are a home team, including luscious Berkshire pork belly from Barossa (served with muntries and quandongs), Port Lincoln kingfish (raw with a calamansi citrus, a mouthful that's smooth and sassy) and tamarind quail from Gawler River.
The dishes demonstrate exquisite and elegant form, and are more than a match for Henschke's big hitters – the 2012 Giles Pinot, the 2012 Croft Chardonnay (poured early to let it unfold just so), and a 2009 Hill of Grace Shiraz poured with great occasion from the spectacular swan-like curve of Riedel glass.
The bill is still eye-popping at $295 each but these days we pay our way. And we're divided on an issue: my wife (an Adelaide girl) loves the Oval location, she sees the ghosts of heroes past and feels privileged to have it ourselves; I'm ambivalent, seeing a space that's missing 50,000 people going wild over a kick of the footy or a knock of the bat.
People can dine here while games are playing, but they must be members of the exclusive Audi Stadium Club. This, I think, is old-school Adelaide, and a shame. But dining (even staying) inside famous sports venues is fashionable and popular so I may have to bench my opinion.
Besides, Hill of Grace is a champion dining experience and, for most, one they're unlikely to forget.
The details: Hill of Grace, Adelaide Oval
The verdict: Two icons come together in the Hill of Grace at the Adelaide Oval.
The score: 18/20; heroic
We rated: The service – affable, prompt and showing due respect to the art of winemaking. A few extra splashes of premium wines showed some well-matched generosity.
We hated: The lack of directional signage around a vast stadium (though this is set to be fixed).
Where: Audi Stadium Club, Adelaide Oval, Adelaide SA
Notes: The lack of diners on our visits was possibly a result of Jamie Oliver's new restaurant opening two nights earlier.
Contact: (08) 8205 4777, adelaideoval.com.au
Enjoy this article?
You can find it in Issue 59 along with
loads of other great stories and tips.