The New Melbourne? – Test-driving a long weekend in Adelaide for a bit of comparison shopping.
The New Melbourne?

Sydneysider and AT Reader Katie Benson test-drives a long weekend in Adelaide for a bit of comparison shopping.


Melbourne: been there, done that, bought the trench coat. My next holiday called for somewhere new. So, armed with three girlfriends, one brave token-male and a long weekend, I set out to answer the question: Could Adelaide be the new Melbourne?
Touching down, we Sydneysiders were instantly impressed with Adelaide's sleek new airport. Having recently undergone a $260m makeover, it was a fashionable welcome to the city of churches.
A quick drive into the city centre and it was soon obvious we were going to fall for Adelaide. Surrounded by lush, green parklands and dotted with aging but beautiful buildings, there's an old-world charm here that makes it a real gem any time of year.
To even the loosely trained eye it's easy to see Melbourne is still ahead in the fashion stakes, but Adelaide is on the up. On tree-lined Rundle Mall the credit card abuse can begin with any of the major retail chains, but the unique Adelaide finds are in one of the 14 adjoining arcades. For seriously chic shoppers, a further stroll to Rundle Street sees more upmarket boutiques mingle with pavement cafes. You can mix your Mimco with your espresso here. Very Chapel Street.
Having worked up a thirst, the call for afternoon refreshments went out. Luckily for us, balconied corner pub "The Stag" lies at the end of Rundle Street (downhill, I might add), and although this region is more famous for it's wines, it was too hard to pass up on the behemoth-sized beers they have on tap here. Large windows overlooking parklands and open-plan rooms with fireplaces make The Stag a great place to spend a sunny afternoon with friends. A sleek new bistro and nightclub, pool tables and big screens, this establishment has it all, and is a favourite with locals.
This being the Festival State, we were spoilt for choice on our long weekend. We decided to enjoy the bounty of South Australia and ventured an hour from the city to the McLaren Vale Sea and Vines Festival. The 60 cellar doors, teamed with a strong local pride in creating unbeatable meals, make McLaren Vale a foodies' delight all year round, and the place to be at festival times.
"I THINK OF ADELAIDE AS MELBOURNE'S SPUNKY LITTLE SISTER. THE PERFECT PLACE TO LIVE IT UP, WIND THINGS DOWN AND TAKE A BREATH OF FRESH AIR."

Our tour started with breakfast and a sparkling red at Hardy's Tintara Winery, then four more McLaren Vale favourites, including d'Arenberg and Tapestry. Sadly, we missed the performance of Daryl "Howzat" Braithwaite at Penny's Hill, but we managed to enjoy the local grape and a range of seafood delights while dancing and singing along to the other live music acts on offer.
On our visit, a grey mist hung in the air. But it didn't dampen the beauty of the valley or the spirits of the revellers who were all in a merry state by the end of the tour. Those serious about their wines and preparing for Round Two of Day Two stayed on in McLaren Vale, but we made a happy return to Adelaide for a bit of a history lesson . . . at the Coopers Alehouse on Pulteney Street. (Well, it is Adelaide's first alehouse.)
Nursing sore heads the next day, we decided to ease back a notch and go sightseeing along Adelaide's coastal suburbs. Stopping our drive for coffees at pretty Henley, we enjoyed lattes overlooking Henley Jetty at Stella's cafe. Henley and surrounds is Bec and Lleyton country, and the Thai Orchid Restaurant in Henley Beach Square is one of their favourites when they're in town.
As tummies started to rumble (token-male knew things could get ugly if the womenfolk weren't quickly fed), tracks were made for the cosmopolitan hub of North Adelaide. Though on the opposite side of town, the beauty of Adelaide is that nothing is too far away, and before long we were sitting down to a fabulous Italian meal. Eat your heart out, Lygon Street.
Like all good things, our long weekend in the city of Ben Folds was coming to an end, and as we taxied onto the runway I thought about my earlier comparisons with Melbourne. And, in short, I like to think of Adelaide as Melbourne's spunky little sister. The perfect place to live it up, wind things down and take a breath of fresh air.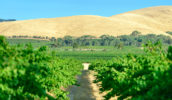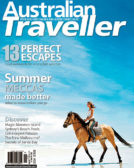 Enjoy this article?
You can find it in Issue 12 along with
loads of other great stories and tips.