Barossa's culinary corners
Yeah, yeah you've read all the about the established wine estates of the Barossa Valley, you've bought the t-shirts too. You've sampled every luscious dish in the Southern Australian region and wouldn't mind seeing something else. Well AT's cruised in and around the Barossa and would like to share the hidden gems, the less visited and those ahead of their game. We gave the Barossa Brewing company a big thumbs up – pretty tough to survive when competing against the rich reds and chilled chardonnays from the Valley.
Barossa's Brewing Company (BBC)
Ever found yourself in the middle of a wine region, but craving a cool, refreshing and rare kind of beer? Well, the Barossa Brewing Company will satisfy your needs.
This company's brewing philosophies are simple – they use natural ingredients, traditional methods and high quality procedures combining the age-old German purity law and Barossa's long-standing tradition of top quality. The company is located overlooking vineyards and boasts a great tasting room – making it the classic brewery it is.

So while your wife sits around sipping sweet and heavy wines we recommend you sneak off and grab yourself a cold one at the Barossa Brewing Company. The beers are true gems and since they're only sold at a few selected bottle shops and taverns in South Australia – quenching your thirst at BBC comes highly suggested.
As the Germans say, five beers are as good as a Schnitzel. Try the Wheatstore or Greenock Dark Ale, they're popular for a reason. The breweries golden refreshment won't let you down.
The Barossa Brewing Company is open for tasting/sampling, sales and tours on Saturday and Sunday from 11am to 4pm.
Find out more at www.bvbeer.com.au.

Collingrove Homestead, Angaston
This homestead has all the charms you could ever want – polished off with personal service, tastefully chosen antique furnishings, custom designed dinners, country allure and heritage listed land. Curious about the spot yet? Well, how does exclusive deals, affordable luxury and modern facilities sound – Collingrove seems to fit the whole experience into one package. AT quite confidently say, "Stay here if you're headed to the Barossa."

The homestead itself is referred to as one of the most beautiful buildings in South Australia, naturally you'll have your own opinion but I believe; it wasn't heritage listed for nothing.
This little spot is so much more than a bed and breakfast; to me the name almost underestimates its value. Whether you're reading about the property, walking the grounds as a guest or staying in one of their well-appointed rooms – you'll have a sense of reliving history.

Collingrove is centrally located and a perfect base for exploring the greater Barossa, not that leaving this historical homestead is easy.
Originally the property was the Angas family home and headquarters – who made significant contributions to the growth and development of South Australia from its earliest days through political involvement and pastoral endeavors. And later developed the area into a breeding ground for Merino and Lincoln sheep – becoming a National Trust in 1976. Reading what I have to say is dull in comparison to the story they paint for you when you visit the homestead.

Tours are offered around the house to outsiders – the collections are well worth the marvel – if you're interested in the history of the home and area, you really should make an effort to get here. Staying on for dinner is the cherry on the top. It seems to me that personal dining has lost its lure to some but knowing I can select the evenings set menu and treat myself to heyday dining is seriously appealing.

Exhausted, need to sleep? Accommodation packages are available at Collingrove from $210 for a double room. Look out for their mid week specials – pack your bags, dream of the delicious wine and head to Collingrove's countryside.

Visit www.collingrovehomestead.com.au or call (08) 8564-2061
Lyndoch Lavender Farm
Can you smell it? I can. A light cool breeze blowing through my hair, I gaze at wide purple fields and take a sip of a freshly made lavender tea. How sensual nature can be. And how purple I think to myself.

Lyndoch's Lavender Farm will treat your little taste buds even if you think you're not a lavender fan. Walk the six acres of lavender fields, surrounded by vineyards or leisurely ponder over the 80 unique varieties of lavender at the farm. The surrounding scent seems to calm you – if you feel in need of relaxation come here to absorb the surroundings views.

You name it, its here lavender products come in every shape and size imaginable – ice-cream, lavender flavoured cheese, chutney, sweetened lavender mustards and vinegars, I know it seems a little OTT (over the top) but it works and tastes pretty good too. Grab a table for lunch or tea, its a girlie thing I know – but well worth it. Go all out and treat your body to Lyndoch lavender aftershaves, rubs, essential oils and more, all quite purple but excellent for aromatherapy and antiseptic uses.

Admission is 2 bucks, which comes with complimentary lavender tea or coffee. Lavender producing tours are available – understand the distilling and cultivation processes for $5 per. Barossa has more to offer than vineyards.

Check out www.lyndochlavenderfarm.com.au
Photographer: Greg Willson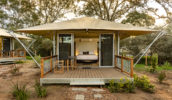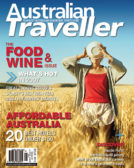 Enjoy this article?
You can find it in Issue 13 along with
loads of other great stories and tips.