Readers Stories of Travel Australia
Right in the Nose of Barossa
Words and Images by Todd Rankin
The French have a saying to do with fingers and noses that may surprise you. Especially as it applies to South Australian wine, sheep dogs, and cycling in the Barossa.
My wife and I were drawn to the Barossa Valley by the promise of the world's finest Shiraz, but ended up finding much more. We left wanting to stay longer, having been charmed by peaceful accommodation, delightful locals, good conversation, quaint wineries and a visit to watch the working dogs at Norm's Coolies. We planned to spend our three days exploring wine cellars and the villages of Tanunda and Nuriootpa by bicycle. The time passed quicker than Norm's dogs could round up a bunch of sheep, and the warm memories of fantastic Shiraz – dry grown and sourced from the Barossa valley floor – linger . . .
During the day we pedalled our way around the valley along well-maintained bike paths and quiet country roads, some of them unpaved. In the evening we relaxed at our accommodation, Doubles D'vine "amidst the vines." It's a pleasant little cottage, with two bedrooms and a shared kitchen and living room. Although fairly budget accommodation, it felt like home. Perfectly nestled among some Pinot Noir vines, we stayed in the aptly named Sunset room. The chill of the evening was soothed by the glow of the fire in the stove after the sun went down.
We shared our cottage and our wine with a French winemaker, Emmanuel, who stayed in the Sunrise room. He patiently spent the evening educating us about cognac, pate and cheese, teaching us French slang for expressions like "piece of cake" (their version means "the finger in the nose"), and explaining the intricacies of the winemaking process.
During our stay we were able to experience tastings at Penfolds, Torbreck, Kabminye, Yaldara Estate, Rockford, Langmeil and Cockatoo Ridge. At Rockford, we savoured finely crafted wines in their charming cellar and were fortunate to be shown their aged basket press, which tenderly squeezes every last drop from their grapes. We were amazed to learn that they do it all by hand.
Lunch on one of the days was spent at Kabminye. The winery and restaurant is housed in an environmentally friendly structure made from bales of hay grown on the property. The floor-to-ceiling windows gave us the impression that our table was set right in the vineyard, offering perfect views of the foothills. It's a divine setting in which to treat yourself to a delicious meal with a perfectly matched wine.
We thoroughly enjoyed the offerings of Langmeil amidst the hospitality and warmth of a fantastic cellar, and highly recommend their Barossa Valley Floor Shiraz. Our favourite at Cockatoo Ridge was the unforgettable Leadbeater desert wine, which we slowly and appreciatively sipped after dinner each night. We capped off our tastings at Yaldara Estate, whose Tempus Two bottles are adorned with prize-winning labels creatively crafted in pewter.
A pleasant surprise during our all too brief visit was a visit to see Norm's Coolies, or working sheep dogs, in action. The way to Norm's is nicely signposted just before you arrive in Tanunda from Gawler, via Gawler Road. Norm has been doing shows with his dogs for more than 20 years to audiences as high as 300. The day we went there were four: us, and a little girl with her mother.
Norm obviously loves his dogs and loves showing people what they can do. They were extremely attentive and – mostly – well behaved. The most impressive feats were when he had them lie down in a circle while two other dogs herded a few sheep into the middle, and when he put them all to sleep (so to speak). Each dog lay on its side, forming a row, and some of them even obediently closed their eyes until the command to "wake up" was given, at which point they all sprang to life at once. The success of the show was marked by the uncontrollable, bellyaching laugh of the little girl. Norm's Coolies was a memorable Barossa Valley experience that's not to be missed, whether you're four or 84.
As we cycled out of Tanunda towards our train from Gawler back to Adelaide, we were a bit sad to leave this wonderful place. It was relaxing, peaceful and charming. It felt like home should feel. For others, we can only say the decision to holiday in the Barossa Valley should be a piece of cake. Or, as Emmanuel taught us, "le droit dans le nez."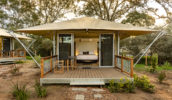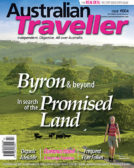 Enjoy this article?
You can find it in Issue 4 along with
loads of other great stories and tips.