The Barossa Valley is not only Australia's best known wine region but it's also the most unique. Written by Nick Ryan
Ever since a bunch of dour Germans escaping religious persecution back home hopped off boats in Adelaide in the 1840's and headed north to plant vines, build churches and smoke and eat every possible part of their pigs, the Barossa has been the beating red heart of the Australian wine industry. From this foundation a very distinctive regional culture was born which is still strongly evident today.
Getting to the Barossa Valley by the usual route is one of Australia's drabbest drives. It's a tedious journey through Adelaide's northern suburbs, a constant stream of Macca's outlets and abandoned cars, improving only when you pass through Gawler and finally hit vineyards around Lyndoch.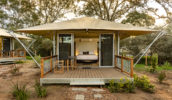 It can be avoided. Take Adelaide's main North East Rd up into the hills and wind your way towards the Eden Valley and come into the Barossa at it's top end near Angaston.
Whole forests have been depleted printing guides to Barossa cellar doors. You're sure to get a good experience through just about all of them but there are a few that really shouldn't be missed.
Follow the signs in the township of Eden Valley to Henschke, taste their impeccable wines at the cellar door then ask for directions to the Hill Of Grace vineyard.
The vineyard itself is arguably Australia's most significant, especially the small and wizened cluster of old vines that are at the heart of what is possibly Australia's greatest red wine.
Just as significant is the small church standing watch over it, where five generations of Henschkes have worshipped ever since the local Lutheran community was split into two factions after one Pastor decided to ban dancing. No prizes for guessing who the winemakers went with.
The connection is still strong. Earlier this year I was tasting new releases at Henschke and was shown a wine made from a single row of century- old mataro vines at Hill of Grace.
Interesting enough in itself but even more interesting was the fact it was all going to be sold at a fundraiser for the church's sesquicentenary.
A wine that good, from a vineyard that famous and a winemaker of that kind of repute, sold at a church fundraiser?
That kind of thing just doesn't happen anywhere else.
From there you head to Angaston, the Barossa's little enclave of Englishness and probably its most sophisticated town.
It's home to the Barossa's best coffee- Blonde Coffee, and its finest cheesemaker- the brilliant Victoria McLurg at Barossa Valley Cheese Company.
It's also where the Valley's obsession with smoking pig products reaches an apogee, with the bacon from Schulz's Butchers in the main street likely to convert the Dalai Lama.
Wine wise there are a couple of polar opposites in terms of size and tradition which are both worth a visit. Yalumba is one of the Valley's grandest estates, a producer of some of its finest wines and is a must see. Once you' ve been there head back down Murray St, look for the old bank building and seek out Wayne Ahrens at Small Fry Wines, a salt of the earth guy doing some really great things.
Of the other cellar doors open regularly, I'd draw up a list to visit that includes Rockford, Charles Melton, St Hallet, Peter Lehmann, Rolf Binder (be careful, he's a wild one), The Willows, Turkey Flat, Torbreck and the grand Seppeltsfield.
But if you google a few phone numbers and make a few calls you'll discover a whole bunch of amazing wines and the people behind them will be only to happy to arrange appointments.
Start typing in names like Teusner, Kalleske, Radford Dale, Rusden, Massena and Cirrilo, Make the call and you'll open a door to an exciting and authentic new Barossa.
The one thing the Barossa lacks, somewhat surprisingly, is a broad range of great dining options. The top of the tree is Appellation at The Louise, a seriously good exploration of the best in local produce backed up by the region's best wine list. Stalwart Vintner's in Angaston or the lesser 1918 in Tanunda can be very good, but the Valley definitely needs more like them.
As for resting your weary head there's a couple of dowdy motor inns and the large but dated Novotel Resort but you can do much better.
Jellicoe House would be my pick, a secluded and beautifully restored cottage among the vines up in the Eden Valley. AT rates a few too. The Kirche at Charles Melton Winery and the Stonewell Cottages both amongst some gorgeous Barossa vines.
Book a few nights, you'll need it to see everything you'll want to see.